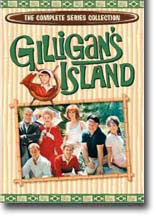 During what was supposed to be a three-hour tour, the S.S. Minnow is shipwrecked on an uncharted tropical island following a typhoon. The seven castaways include the Minnow's blustery captain (Alan Hale Jr.), his bumbling first mate Gilligan (Bob Denver), a millionaire couple named the Howells (Jim Backus and Natalie Schafer), curvaceous movie star Ginger Grant (Tina Louise), sexy farm girl Mary Ann Summers (Dawn Wells), and a science professor known as the Professor (Russell Johnson).Despite their dire situation, the castaways managed to survive on a diet made up of fish and coconut cream pie, and were aided by their trusty transistor radio and a seemingly never-ending parade of guest stars who managed to drop by their "deserted" island (including a big game hunter, a movie producer, a mad scientist, a rock band, Russian cosmonauts, foreign spies and a jungle boy), yet never managed to bring the castaways to safety.
Gilligan's Island has often been an object of ridicule for both professional critics and self-annointed intellectuals alike, most of whom point out the various implausibilities in the show (i.e., the Professor is an "idiot" because he can cause nuclear fission using coconuts but can't build a raft, the unliklihood of the Howells taking a "three hour tour" on an obviously inexpensive charter boat, let alone taking along three season's worth of wardrobe and costumes with them, ad nauseum), but chances are these same critics have also seen many — if not all — the show's episodes, and have enjoyed at least a few guilty laughs for their trouble.

Character to watch: Alan Hale Jr. as Jonas 'The Skipper' Grumby.
Journal your answers to the following questions after you watch the series.
How does this particular character's journey compare with yours?
Did the character develop certain characteristics during the movie that you have or that you would like to have? If so, what are those characteristics?
What obstacles did this character face? What was his or her biggest challenge?
What would you have done differently if you had been in the same position as the character?
Is this character the type of person you would be friends with? Why or why not?