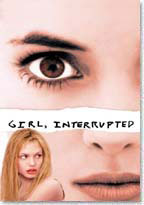 In the spring of 1967, 18-year-old Susanna Kaysen (Winona Ryder) voluntarily checks herself into Claymoore Hospital after overdosing on aspirin. She denies that she was attempting to commit suicide, claiming that she was just "trying to make the shit stop." Susanna tells her therapists that she does not actually want to go to college and would like to become a writer.
While in the hospital, Susanna befriends fellow patients Polly Clark (Elisabeth Moss), Georgina Tuskin (Clea DuVall), Daisy Randone (Brittany Murphy), Janet Webber (Angela Bettis), and Cynthia Crowley (Jillian Armenante). Susanna is particularly interested in Lisa Rowe (Angelina Jolie), supposedly diagnosed a sociopath.
When Lisa returns to the ward after running away, she notices that her old best friend's room is now occupied by Susanna. Lisa demands to know what happened to her best friend, eventually realizing that she committed suicide. Lisa befriends Susanna, encouraging her to stop taking her medications and to resist therapy.
Lisa and Susanna decide to break out of Claymoore. After hitching a ride, they spend the night at the house of the recently released Daisy, whom Lisa antagonizes in her usual manner. She accuses Daisy of having an incestuous relationship with her father, and mocks her for being a cutter. Daisy is undone by these comments.
Here's a look inside a mental hospital that will amply entertain while it communicates a heart-rending angst just as compellingly. Winona Ryder plays Susanna Kaysen, an inpatient in a true-life story who told her experiences in the institution in a book of the same title. Her own story is poignant but ever rivaled by that of other fellow patients.
One is Georgina, Susannah's sort-of happy-go-quirky roommate. Then there's Daisy, a sad and somber patient whose story will break your heart. And there's long-time resident Polly, sweet and lovable but still a prisoner to her childhood trauma in which she set herself on fire. But stealing the show is Lisa, played by Angelina Jolie, possibly the most spellbinding of less-than-heroic movie characters since Hannibal Lecter.
It is impossible not to relate to Lisa and even sympathize with her somewhat, even though she is menacing and can be cruel. She traumatizes other patients, for example taunting poor Polly and calling her "torch". Lisa is the escape artist of the group and bonds with Susannah in surprising ways. There's indeed some heavy stuff here. But it's also highly watchable with humanity and sometimes humor shining through the tragedy.
Director: James Mangold
Year of Release: 1999

Character to watch: Angelina Jolie as Lisa Rowe.
Journal your answers to the following questions after you watch the movie.
How does this particular character's journey compare with yours?
Did the character develop certain characteristics during the movie that you have or that you would like to have? If so, what are those characteristics?
What obstacles did this character face? What was his or her biggest challenge?
What would you have done differently if you had been in the same position as the character?
Is this character the type of person you would be friends with? Why or why not?