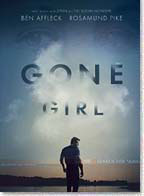 Five years of marriage have not been kind to Nick and Amy Dunne (Ben Affleck and Rosamund Pike.) After the recession took both of their journalism jobs, they reluctantly moved to Nick's hometown in Missouri from New York to tend to his dying mother. Maybe Amy never saw herself living outside of Manhattan, maybe Nick resented Amy for her family's money and the pre-nup he signed.
On the morning of their fifth wedding anniversary, Amy goes missing. A media circus ensues, with Nick being portrayed as the main suspect. Amy's high school ex-boyfriend (Neil Patrick Harris) and her alleged 'best friend' from home (Casey Wilson) manifest only to put the nail in the case's coffin. But what really happened to Amazing Amy?
The story tells of a married couple, Nick and Amy Dunne, on their fifth wedding anniversary. That morning, Amy mysteriously vanishes, leaving behind a rather suspicious trail of evidence.The authorities and the media quickly swoop down on Nick, who seems nice enough, but is oddly evasive and may not be telling the whole truth. As events unfold, you will be left wondering how well you truly know the person you love.
The film is buoyed by spot-on casting decisions. In a strange way which pays enormous dividends, many of the stars seem to be chosen based on their undesirable traits. Affleck, a capable actor and a fine director, knows what is to be caught in the media's unforgiving line of fire and has earned poor reviews in the past for exuding a certain bordering-on-self-parody, macho-man overconfidence and self-satisfaction, so he is an ideal choice to play the husband, an individual who is either a decent man in over his head or a chiseled sociopath who can barely hide his smile in front of the cameras.
Director: David Fincher
Year of Release: 2014

Character to watch: Rosamund Pike as Amy Dunne.
Journal your answers to the following questions after you watch the movie.
How does this particular character's journey compare with yours?
Did the character develop certain characteristics during the movie that you have or that you would like to have? If so, what are those characteristics?
What obstacles did this character face? What was his or her biggest challenge?
What would you have done differently if you had been in the same position as the character?
Is this character the type of person you would be friends with? Why or why not?