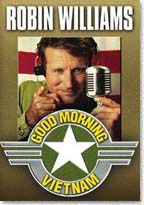 In 1965, Airman First Class Adrian Cronauer (Robin Williams) arrives in Saigon from Crete to work as a DJ for Armed Forces Radio Service. Cronauer is greeted by Private First Class Edward Montesquieu Garlick (Forest Whitaker).
Cronauer's irreverence contrasts sharply with many staff members and soon gets the attention of two of his superiors, Second Lieutenant Steven Hauk (Bruno Kirby) and Sergeant Major Phillip Dickerson (J. T. Walsh).
Hauk adheres to strict Army guidelines in terms of humor and music programming, while Dickerson is annoyed by Cronauer's behavior in general. However, Brigadier General Taylor (Noble Willingham) and the other DJs quickly grow to like the new man and his brand of comedy. Cronauer's show consists of unpredictable humor segments mixed with news updates and rock and roll records that are frowned upon by his superiors.
Cronauer meets Trinh (Sukapatana), a Vietnamese girl, and follows her to an English class. Bribing the teacher to let him take over the job, Cronauer starts instructing the students in the use of American slang.
Once class is dismissed, he tries to talk to Trinh but is stopped by her brother Tuan. Instead, Cronauer befriends Tuan and takes him to Jimmy Wah's, the local G.I. bar, to have drinks with Garlick and the station staff. Two other soldiers, angered at Tuan's presence, initiate a confrontation that escalates into a brawl.
Dickerson reprimands Cronauer for this incident, but his broadcasts continue as before. While relaxing in Jimmy Wah's one afternoon, he is pulled outside by Tuan moments before the building explodes, killing two soldiers and leaving Cronauer badly shaken. The cause of the explosion is determined to be a bomb; the news is censored, but he locks himself in the studio and reports it anyway.
Dickerson cuts off the broadcast and Cronauer is suspended. Hauk takes over his time slots, but his poor attempts at comedy and insistence on playing polka music, lead to a flood of letters and phone calls from servicemen who demand that Cronauer be put back on the air.
Robin Williams is exceptional (as usual) as the controversial radio disc-jockey Adrian Cronauer who is sent to Vietnam during the war to lift the military morale with his special brand of on-air banter. Cronauer's improvised, lightning-speed monologues keep getting him into strife with his superiors, yet are adored by the soldiers who avidly listen to him. While stationed in the war-torn country, Cronauer meets and gets to know some of the locals intimately, and learns about the catastrophes and disasters that lie beneath the airwaves through which his flippantly humorous broadcasts are transmitted.
Director: Barry Levinson
Year of Release: 1987

Character to watch: Robin Williams as Adrian Cronauer.
Journal your answers to the following questions after you watch the movie.
How does this particular character's journey compare with yours?
Did the character develop certain characteristics during the movie that you have or that you would like to have? If so, what are those characteristics?
What obstacles did this character face? What was his or her biggest challenge?
What would you have done differently if you had been in the same position as the character?
Is this character the type of person you would be friends with? Why or why not?