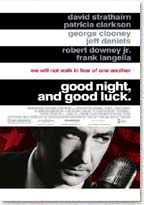 Good Night, and Good Luck. is set in 1953, during the early days of television broadcast journalism. Edward R. Murrow (David Strathairn) and his dedicated staff—headed by his co-producer Fred Friendly (George Clooney) and reporter Joseph Wershba (Robert Downey, Jr.) in the CBS newsroom—defy corporate and sponsorship pressures, and discredit the tactics used by Joseph McCarthy during his crusade to root out Communist elements within the government.
Murrow first defends Milo Radulovich, who is facing separation from the U.S. Air Force because of his sister's political leanings and because his father is subscribed to a Serbian newspaper. Murrow makes a show on McCarthy attacking him. A very public feud develops when McCarthy responds by accusing Murrow of being a communist. Murrow is accused of having been a member of the leftist union Industrial Workers of the World, which Murrow claimed was false.
In this climate of fear and reprisal, the CBS crew carries on and their tenacity ultimately strikes a historic blow against McCarthy. Historical footage also shows the questioning of Annie Lee Moss, a Pentagon communication worker accused of being a communist based on her name appearing on a list seen by an FBI infiltrator of the American Communist Party.
The film's subplots feature Joseph and Shirley Wershba, recently married staffers, having to hide their marriage to save their jobs at CBS as well as the suicide of Don Hollenbeck (Ray Wise) who had been accused in print of being a Communist.
The film is framed by performance of the speech given by Murrow to the Radio and Television News Directors Association in 1958, in which Murrow harshly admonishes his audience not to squander the potential of television to inform and educate the public.
Director: George Clooney
Year of Release: 2005

Character to watch: David Strathairn as Edward R. Murrow.
Journal your answers to the following questions after you watch the movie.
How does this particular character's journey compare with yours?
Did the character develop certain characteristics during the movie that you have or that you would like to have? If so, what are those characteristics?
What obstacles did this character face? What was his or her biggest challenge?
What would you have done differently if you had been in the same position as the character?
Is this character the type of person you would be friends with? Why or why not?