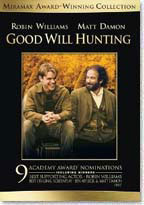 Will Hunting (Matt Damon) is a 20-year-old  from South Boston who is a genius who works as a janitor at the Massachusetts Institute of Technology (MIT). He spends his free time with his friends Chuckie Sullivan (Ben Affleck), Billy McBride (Cole Hauser), and Morgan O'Mally (Casey Affleck).When MIT Professor Gerald Lambeau (Stellan Skarsgard) posts a difficult problem taken from algebraic graph theory as a challenge for his graduate students to solve, Will solves the problem quickly and anonymously. Lambeau posts an even more difficult problem and catches Will in then act of solving it.
Will meets Skylar (Minnie Driver), a Harvard student about to graduate and move to California to pursue a graduate degree at Stanford University School of Medicine. Meanwhile, Will is faced with incarceration after assaulting a man who had bullied him as a child. Lambeau arranges for Will to be released if he agrees to study mathematics under Lambeau's supervision and to see a therapist. Will agrees, but treats his first few therapists with complete silence and contempt.
Lambeau then calls on his college roommate, Sean Maguire (Robin Williams), a therapist who teaches psychology at a local   community college. Sean agrees to see Will and is patient with him, but home to  overcome his defense mechanisms. After a few unproductive sessions Will begins to open up and the two men develop a close relationship.
Maquirie provides therapy for Will. To be released from jail, Will agrees to regular counseling sessions with Sean and to work for Gerald. The initial therapy sessions between Will and Sean are very intense (more so for Sean than for Will, as Will uses his genius to tear into Sean's core and has had a lot of previous psychotherapy experience), but Sean finds ways to work with him. Complicating matters, a mutual attraction develops between Will and a female MIT student, Skylar (Minnie Driver).
Director: Gus Van Sant
Year of Release: 1997

Character to watch: Matt Damon as Will Hunting.
Journal your answers to the following questions after you watch the movie.
How does this particular character's journey compare with yours?
Did the character develop certain characteristics during the movie that you have or that you would like to have? If so, what are those characteristics?
What obstacles did this character face? What was his or her biggest challenge?
What would you have done differently if you had been in the same position as the character?
Is this character the type of person you would be friends with? Why or why not?