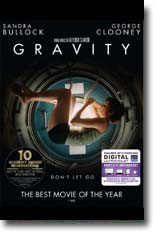 Dr. Ryan Stone (Sandra Bullock) is a brilliant medical engineer on her first shuttle mission, with veteran astronaut Matt Kowalsky (George Clooney) in command of his last flight before retiring. But on a seemingly routine spacewalk, disaster strikes. The shuttle is destroyed, leaving Stone and Kowalsky completely alone – tethered to nothing but each other and spiraling out into the blackness.
This movie gives you everything: thrilling action, awesome visuals, incomparable cinematic spectacle, a terrifying scenario, an exciting adventure, and a masterpiece of minimalist characterization. They all combine in one pedal-to-the-metal slam-bam technically perfect movie that gives you equal shots of hope and hopelessness from the first frame to the very last.
Bullock is not only in practically every frame of the movie, but she exposes herself emotionally here in more ways than I could count: she is equal parts victim and heroine, emotional and calculating, frightened and bold, wounded and powerful. She is a tortured soul who reveals herself in dribs and drabs, revealing her emotional torment when it will have the most effect.
The movie is as much about what has happened to her as what is happening to her. She is able to make herself as interesting and captivating as the events that occur during the film, and this is important: rather than simply being a movie about a series of cascading terrors, it is equally about the human spirit, the "stuff" that lies inside us that drives us to go on when going on seems impossible.
Director: Alfonso Cuaron
Year of Release: 2013

Character to watch: Sandra Bullock as Dr. Ryan Stone.
Journal your answers to the following questions after you watch the movie.
How does this particular character's journey compare with yours?
Did the character develop certain characteristics during the movie that you have or that you would like to have? If so, what are those characteristics?
What obstacles did this character face? What was his or her biggest challenge?
What would you have done differently if you had been in the same position as the character?
Is this character the type of person you would be friends with? Why or why not?