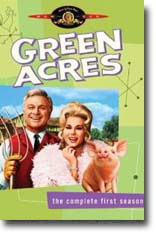 Eddie Albert spent six seasons appealing to the whacked out citizens of Hooterville to behave in a rational and orderly manner. Naturally, he got just what he deserved–the gradual erosion of his own mental stability. Aficionados of this show like to call it surreal. All one can add to that, to paraphrase the classic title song, is that DVD is the place for Green Acres to be.Hooterville may have been condemned by critics as a vast wasteland, but as the first season demonstrates, it provides fertile ground for bizarre behavior for a gallery of classic characters who rival the residents of Twin Peaks. "Oliver Buys a Farm," the series pilot, is a comparatively tame episode that gives little hint of the weirdness to come.
Lawyer Oliver Wendell Douglas (Albert), weary of life in New York ("It's a rat race, and the rats are winning!" he declares), buys the Haney place to the horror of his socialite wife Lisa (Eva Gabor), whose ditziness has yet to be established. Look for appearances by Petticoat Junction denizens Uncle Joe (Edgar Buchannan), Sam Drucker (Frank Cady), Hooterville Cannonball engineer Floyd Smoot (Rufe Davis), and everyone's favorite wonder pig, Arnold Ziffel.
Among the season's other episodes, in "The Day of Decision," all of Hooterville wonders whether "she will" or "she won't" as Lisa chooses between life on the farm or returning to New York. In "Never Look a Gift Tractor in the Mouth," Hooterville is beginning to look like Peyton Place when Doris Ziffel (Barbara Pepper) becomes convinced that her husband Fred (Hank Patterson) and Lisa are having an affair. "Lisa Bakes a Cake," in which Lisa lists Oliver in the phone book as an attorney, is about as flat and heavy as one of Lisa's infamous creations.
One of the things I really love about the show is the warm and loving relationship shown between main characters Oliver and Lisa. No matter how much at odds they may be during an episode, in the end it is their love for each other that makes everything alright and keeps them together in the face of every outlandish adversity that "Hootsersville" can throw at them.

Character to watch: Eddie Albert as Oliver.
Journal your answers to the following questions after you watch the series.
How does this particular character's journey compare with yours?
Did the character develop certain characteristics during the movie that you have or that you would like to have? If so, what are those characteristics?
What obstacles did this character face? What was his or her biggest challenge?
What would you have done differently if you had been in the same position as the character?
Is this character the type of person you would be friends with? Why or why not?