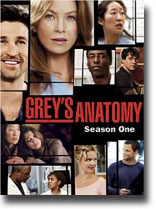 Just when you wanted to say "Oh no, not another hospital drama," Grey's Anatomy turns into one of the most addicting series on television. With no big stars and no hype, the ABC series debuted last spring as a mid-season replacement and became a bonafide smash in its nine-episode season.
The series, a hybrid of House's medical detectives and Dawson's Creek's hormones and catchy pop-rock soundtrack, follows five competitive surgical interns at the fictional Seattle Grace Hospital. There's optimistic ex-model Izzie (Katherine Heigl), bumbling do-gooder George (T.R. Knight), competitive glacier Cristina (Sandra Oh), cocky womanizer Alex (Justin Chambers), and the show's namesake, Meredith Grey (Ellen Pompeo), whose medical career is complicated by her famous surgeon mother who now lives with Alzheimer's, and her frowned-upon relationship with another surgeon, Derek Shepherd (Patrick Dempsey, enjoying the best career revival since Rob Lowe). The doctors juggle romance and foster friendships while trying not to stab each other in the back over surgeries.Grey's Anatomy's first season, while entertaining, went a little far trying to find its groove, overdosing on Meredith's overly simplistic voice-overs ("At the end of the day… faith is a funny thing"), and musical montages. It has the usual trappings of a hospital drama (unusual cases, such as the patient with the 70-pound tumor, and trysts in the on-call room), but with more warm fuzzies and light touches.
Pompeo, who can sound just like Renee Zellweger if you close your eyes, is likeable but not strong enough of a presence compared to her co-stars. Luckily the quirky dialogue and stellar acting by the ethnically diverse cast, particularly by Chandra Wilson (Dr. Bailey) and Oh, who won a Golden Globe for best supporting actress, more than make up for it. The DVD covers the first season's nine episodes, plus commentary on the pilot and a behind-the-scenes feature.
When I first heard about Grey's Anatomy I thought this would be another boring medical soap opera angst-fest, but it was so much more. The cast has geniuine chemistry, not just between Shepard and Meredith, but between everyone. The characters are all fantastic, with their little quirks that have us begging for more than what the 1st season offered.
The patients they see also have us wanting more from the characters. Its like ER that the patients any of the patients can die at any time. Its not cheesy in that the ones we love manage to live, because, on several occasions, they have died when its least expected.
By having an outstanding storyline (with a jaw-dropping cliffhanger) and fantastic chemistry, the show manages to stand out among the many medical dramas seen over the years. Even though the 1st season is a bit short, its still worth checking out.

Character to watch: Ellen Pompeo as Meredith Grey.
Journal your answers to the following questions after you watch the series.
How does this particular character's journey compare with yours?
Did the character develop certain characteristics during the movie that you have or that you would like to have? If so, what are those characteristics?
What obstacles did this character face? What was his or her biggest challenge?
What would you have done differently if you had been in the same position as the character?
Is this character the type of person you would be friends with? Why or why not?