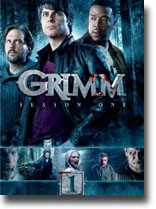 The classic Grimms' fairytales come to life like never before in this dark and imaginative series from the producers of Buffy the Vampire Slayer and Angel. Portland homicide detective Nick Burkhardt (David Giuntoli) discovers he's descended from a long line of "Grimms," who are charged with keeping balance between humanity and the creatures of myth.
With newly awoken abilities to detect the evil lurking among us, Nick struggles to keep his old life separate and safe as he becomes ever more entrenched in the ancient rivalries of the Grimm world. Now, watch back-to-back and uninterrupted all 22 Season One episodes of this uniquely evocative series.
Portland detective Nick Burkhardt (David Guintoli)sees monsters and it's not because he's on drugs. Turns out Burkhardt is one of the last of the Grimms who fought and killed monsters that have preyed on humanity for centuries. Burkhardt like all Grimms has the unique ability to see the creatures masquerading beneath their human mask.
With the assistance of Monroe (Silas Weir Mitchell)a reformed werewolf (or a big bad wolf in Grimm mythology)to help him understand the strange new world he's been dropped into, Burkhardt discovers that many of the creatures out there are just trying to survive while others have more insidious motives. Unfortunately there are those in Burkhardt's own police department who are undermining his efforts for their own mysterious reasons.

Character to watch: Silas Weir Mitchell as Monroe.
Journal your answers to the following questions after you watch the series.
How does this particular character's journey compare with yours?
Did the character develop certain characteristics during the movie that you have or that you would like to have? If so, what are those characteristics?
What obstacles did this character face? What was his or her biggest challenge?
What would you have done differently if you had been in the same position as the character?
Is this character the type of person you would be friends with? Why or why not?