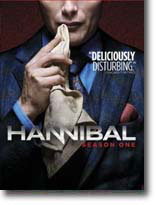 FBI Agent Will Graham (Hugh Dancy) hunts the most notorious serial killers. Graham is both gifted and cursed with an extraordinary ability: he can think like his prey, seeing what they see and feeling what they feel. What he doesn't know is that his new partner is the most notorious serial killer of all.While pursuing an especially troubling, cannibalistic murderer, Special Agent Jack Crawford (Laurence Fishburne) teams Graham with a highly respected psychiatrist – a man with a taste for the criminally minded: Dr. Hannibal Lecter (Mads Mikkelsen).
Dr. Lecter tests Graham every step of the way, toying with him and playing a game all his own, while they work to unravel the mystery and catch the killer. Like only Lecter can, he twists Graham's mind, daring him to question everything he knows about others and himself.
This is strictly adult TV. Intelligent, well developed stories and characters. It is a series that knows what it is and exceeds audience members expectations. If you like shiny crappy vampire TV this also may not be for you, because the characters aren't bed hopping blood suckers. Hannibal's characters are actually interesting and they actually have depth.

Character to watch: Hugh Dancy as Will Graham.
Journal your answers to the following questions after you watch the series.
How does this particular character's journey compare with yours?
Did the character develop certain characteristics during the movie that you have or that you would like to have? If so, what are those characteristics?
What obstacles did this character face? What was his or her biggest challenge?
What would you have done differently if you had been in the same position as the character?
Is this character the type of person you would be friends with? Why or why not?