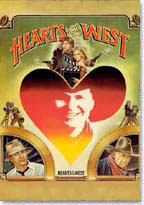 Lewis Tater (Jeff Bridges), a 1930s-era aspiring novelist who harbors dreams of becoming the next Zane Grey, decides to leave his family home in Iowa to go to the University of Titan in Nevada so he can soak up the western atmosphere.
He arrives to find that there is no university, only a mail order correspondence course scam run by two crooks out of the local hotel. Lewis tries to spend the night at the hotel, and is attacked by one of the men. He escapes his attacker and steals their car, pulling over when it runs out of gas.
Lewis wanders through the desert and happens upon a threadbare film-unit grinding out "B" westerns called Tumbleweed Studios. He catches a lift with the cowboy actors to Los Angeles. After applying at Tumbleweed, he is referred by crusty old extra Howard Pike (Andy Griffith) to the Rio, a western themed restaurant.
While washing dishes at the Rio, he is called by Tumbleweed, where Howard mentors him to be an actor. After proving himself as a stuntman, unit manager Kessler (Alan Arkin) offers him a speaking role. Tater then falls in love with spunky script girl Miss Trout (Blythe Danner). Meanwhile his pursuers trace him to Los Angeles to retrieve the safe-box containing their money that was in the car stolen by Lewis.
This film is full of scoundrels and opportunists and still manages to make life seem delicious. Long before Gwenyth Paltrow was famous her mother, Blythe Danner, was known by aficionados as someone that picked superb material. She's here as The Girl, savvy but still sweet enough to fall for the truly endearing and monumentally naive Jeff Bridges. Alan Arkin does a sublime high strung director of 1920s cowboy movies, and you won't believe what Andy Griffith can do. See it and feel great not in a sappy way: a truly grown up delight.
Director: Howard Zieff
Year of Release: 1975

Character to watch: Jeff Bridges as Lewis Tater.
Journal your answers to the following questions after you watch the movie.
How does this particular character's journey compare with yours?
Did the character develop certain characteristics during the movie that you have or that you would like to have? If so, what are those characteristics?
What obstacles did this character face? What was his or her biggest challenge?
What would you have done differently if you had been in the same position as the character?
Is this character the type of person you would be friends with? Why or why not?