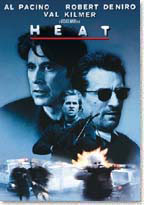 Career criminal Neil McCauley (Robert De Niro) and his crew—Chris Shiherlis (Val Kilmer), Michael Cheritto (Tom Sizemore), Trejo (Danny Trejo), and new member Waingro (Kevin Gage)—conduct an armored car heist, stealing $1.6 million in bearer bonds from money launderer Roger Van Zant (William Fichtner). During the heist, Waingro impulsively kills one of the guards, forcing the crew to kill the remaining two guards to make sure there are no witnesses.
An infuriated McCauley tries to kill Waingro afterwards, but he escapes. McCauley's fence Nate (Jon Voight) sets up a meeting with Van Zant to sell the bonds back. Van Zant ostensibly agrees but instructs his men to kill McCauley as a warning to other thieves. With backup from his crew, McCauley thwarts the ambush and vows revenge.
Lieutenant Vincent Hanna (Al Pacino) of the L.A.P.D. Robbery-Homicide Division leads the investigation of the heist and learns McCauley's crew plans to rob a precious metals depository next. Hanna and his unit stake out the depository, but when an officer inadvertently makes a noise, McCauley is alerted, and the crew abandons the robbery.
Despite the police surveillance, McCauley and his crew decide to proceed with a bank holdup with an estimated $12 million payoff. Waingro is revealed to be a serial killer of prostitutes, with his latest victim falling under Hanna's jurisdiction. Hanna discovers that his wife Justine (Diane Venora) is having an affair and moves to a hotel, and McCauley catches Charlene Shiherlis (Ashley Judd) cheating on Chris with Alan Marciano (Hank Azaria), a Las Vegas liquor salesman with a criminal past.
Trejo is compromised just hours before the bank robbery. In need of a new getaway driver, McCauley recruits Donald Breeden (Dennis Haysbert), an ex-convict working a dead-end job as a short order cook. Hanna's unit is alerted to the robbery by a confidential informant and surprises McCauley's crew as they exit the bank.
Director: Michael Mann
Year of Release: 1995

Character to watch: Robert De Niro as Neil McCauley.
Journal your answers to the following questions after you watch the movie.
How does this particular character's journey compare with yours?
Did the character develop certain characteristics during the movie that you have or that you would like to have? If so, what are those characteristics?
What obstacles did this character face? What was his or her biggest challenge?
What would you have done differently if you had been in the same position as the character?
Is this character the type of person you would be friends with? Why or why not?