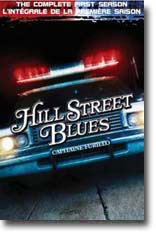 Created by Steven Bochco and one of television's most influential series,
Hill Street Blues
was not your father's cop show. The Emmy-winning pilot episode, "Hill Street Station," immediately established the series as less a police procedural than an up-close and personal interface with the police experience.
To establish gritty, documentary-like realism, the show featured sequences, such as the pre-credit roll call, that were filmed with a hand-held camera. There was chaotic, overlapping dialogue. There were sudden, shocking bursts of violence that claimed popular characters.Story lines were not wrapped up at the end of the hour, but instead, unfolded serially throughout the season.
It's no wonder that Hill Street, while championed by most critics, was initially not embraced by viewers. It was, in the beginning, one of television's lowest rated shows, its case not helped by NBC's criminal practice of juggling it in its primetime schedule). But there is justice in Hollywood. Hill Street Blues won the Emmy for best drama in its first season.
Also honored were several members of the ensemble, including Daniel J. Travanti as the compassionate and incorruptible Precinct Capt. Frank Furillo, Michael Conrad as the avuncular Sgt. Phil Esterhaus (whose cautionary, "Let's be careful out there," became the show's pop culture signature), and Barbara Babcock as the wildly sexual Grace Gardner, who rocks Esterhaus's world (particularly in the episode that earned her her statuette, "Fecund Hand Rose").
There were no big stars on Hill Street Blues (or, for that matter, no little stars, as one of the cast members jokes during a near-hour-long reunion featurette included as a bonus feature on this three double-sided disc set). Each was an indelible character, among them Charles Haid as cowboy cop Andy Renko, Veronica Hammel as sexy public defender Joyce Davenport, Bruce Weitz as the untamed, animalistic Belker, Keil Martin as LaRue, whose descent into alcoholism is one of the season's most compelling dramatic arcs, and James Sikking as the gung-ho Howard Hunter.
Once daring, Hill Street Blues seems almost quaint today, with none of the graphic sex or language that scandalized NYPD Blue (in one episode, a captured cat burglar, portrayed by Michael Tucker, makes a reference to "wolf pee-pee"). The ethnic portrayals, too, are not exactly nuanced. But the human dramas at the heart of Hill Street still make for arresting television.

Character to watch: Daniel J. Travanti as Capt. Frank Furillo.
Journal your answers to the following questions after you watch the series.
How does this particular character's journey compare with yours?
Did the character develop certain characteristics during the movie that you have or that you would like to have? If so, what are those characteristics?
What obstacles did this character face? What was his or her biggest challenge?
What would you have done differently if you had been in the same position as the character?
Is this character the type of person you would be friends with? Why or why not?