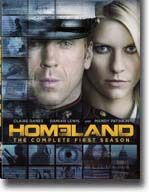 Claire Danes's performance as an off-the-rails federal agent may be the best thing about Homeland, but it's certainly not the only thing to admire about a show that's the visual equivalent of a page-turner. The focus here is on the specter of domestic terrorism.
When Marine Sgt. Nicholas Brody (Damian Lewis), missing and presumed dead for some eight years, is found disheveled, disoriented, and alive in Iraq, he's regarded as a hero back in the States. But Agent Carrie Mathison (Danes) isn't so sure; in fact, she's convinced that Brody was "turned" by the notorious, bin Laden-like terrorist leader Abu Nazir, and is now part of an ambitious scheme to kill Americans on their own soil. The fact that she has no proof and precious little support within the CIA–only mentor Saul Berenson (Mandy Patinkin) and a couple of others give the slightest credence to her theory–hardly deters Mathison.
She's persistent, to say the least. But she's also obsessive, unstable (bipolar, to be precise), and reckless, all too willing to do things illegally and prone to making choices throughout the season that put herself and those around her in serious jeopardy, both physically and psychologically. Brody, meanwhile, has a tough time readjusting to normal life, what with the obnoxious glare of the media spotlight and the awkwardness of the reunion with his family, including wife Jessica (Morena Baccarin, very different from her role as the icy alien leader in V) and their two kids.
So what is Brody's real agenda, if he even has one? There are plenty of indications early on that Mathison's suspicions about him are correct. But are his visions memories, or simply hallucinations? Does even the fact that Brody kneels on a prayer rug in his garage, chanting in Arabic, mean he's a bad guy, or merely a zealous convert to Islam?
This show is too smart to give away too much too soon; red herrings abound, and the season ends with a cliffhanger sure to leave Homeland adherents salivating for more. In the meantime, those looking for a marginally more credible and only slightly less entertaining alternative to 24 are in for a treat.

Character to watch: Damian Lewis as Sgt. Nicholas Brody.
Journal your answers to the following questions after you watch the series.
How does this particular character's journey compare with yours?
Did the character develop certain characteristics during the movie that you have or that you would like to have? If so, what are those characteristics?
What obstacles did this character face? What was his or her biggest challenge?
What would you have done differently if you had been in the same position as the character?
Is this character the type of person you would be friends with? Why or why not?