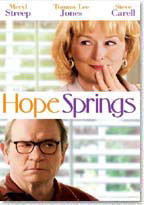 Although they are a devoted couple, empty nesters Kay and Arnold Soames (Meryl Streep and Tommy Lee Jones) need some help to put the passion back in their marriage. Ever since Arnold had surgery many moons ago, they have slept in separate rooms, giving up any chance of intimacy or physical affection.
One day Kay (who works as a sales person at Coldwater Creek employee) tells Arnold (who is a partner in an Omaha accounting firm) she has paid for them to undergo a week of intense marriage counseling with Dr. Bernie Feld (Steve Carell) in a coastal resort town in Maine.
Arnold is a creature of the mundane, unimaginative routine, denies their marriage is in trouble and resists getting on a plane for a week of marriage therapy. Eventually, he becomes willing to change in order not to lose the love of his life.
Do not let this film bypass you. Streep tore at my heart. Amazing, seemingly effortless work by her. Yes, her again. For those who criticize her work as being too, for lack of a better word, "studied" or "educated", you can throw that out the window with this. Just her facial expressions killed me, no words, just an everyday person's feelings flowing across her face. So realistic.
Jones—hilarious, heartbreaking, a performance that was every bit as realistic. He was awesome. Even though I had tears running down my face practically the entire time, I'm getting this DVD. Can't wait to see it again—but in the privacy of my own home—where no one can see me balling my eyes out.
Director: David Frankel
Year of Release: 2012

Character to watch: Tommy Lee Jones as Arnold Soames.
Journal your answers to the following questions after you watch the movie.
How does this particular character's journey compare with yours?
Did the character develop certain characteristics during the movie that you have or that you would like to have? If so, what are those characteristics?
What obstacles did this character face? What was his or her biggest challenge?
What would you have done differently if you had been in the same position as the character?
Is this character the type of person you would be friends with? Why or why not?