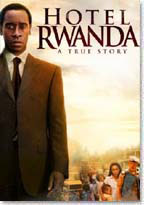 The true-life story of Paul Rusesabagina (Don Cheadle), a hotel manager who housed over a thousand Tutsi refugees during their struggle against the Hutu militia in Rwanda. As tensions between the Hutu and Tutsi peoples lead to a war in Rwanda, there is rampant corruption and bribes of the politicians are routine. Rusesabagina is Hutu, but his wife Tatiana (Sophie Okonedo), is Tutsi. His marriage is a source of friction with some Hutu extremists, most notably Georges Rutaganda (Kae-Kazim).
As the political situation in Rwanda worsens, Paul and his family observe neighbors being killed in ethnic violence. Paul bribes politicians with money and alcohol, seeking to maintain sufficient influence to keep his family and neighbors safe. When civil war erupts and a Rwandan Army officer threatens Paul, he negotiates their safety and brings everyone to the hotel. Additionally, more refugees come to the hotel from the overburdened United Nations camp, the Red Cross, and orphanages.
Don Cheadle aces a career making role as Paul Rusesabagina, the quiet, understated hotel manager of a five star hotel in Kigali, Rwanda, who breaks every rule in the management book to protect not only the hotel guests, but refugees from both sides of the genocide that rocked Rwanda in 1994, while the rest of the world looked the other way.
A Hutu by birth and passport stamp, Paul is married to a Tutsi woman (Sophie Okonedo, whose voice changes drastically in octave as the role demands), and by this distinction, his children are also Tutsi, and therefore branded as cockroaches to be exterminated.
Because of his position and well-placed contacts, Rusesabagina is able to cling tenuously to his little safe house, putting up a brave front for the 1200 people he is sheltering from the Hutu tribal forces. When he finds out that the UN peacekeepers cannot help them, and that the rest of the world doesn't want to know about African problems, he resorts to the local language, securing protection by whatever means necessary from the authorities, led by General Bizimungu, who has a weakness for Scottish water of life, foreign currency and self preservation. Being only human, and in a crisis situation, he makes crucial errors in judgment, but by his conviction he manages to hold it all together for as long as necessary.
Director: Terry George
Year of Release: 2004

Character to watch: Don Cheadle as Paul Rusesabagina.
Journal your answers to the following questions after you watch the movie.
How does this particular character's journey compare with yours?
Did the character develop certain characteristics during the movie that you have or that you would like to have? If so, what are those characteristics?
What obstacles did this character face? What was his or her biggest challenge?
What would you have done differently if you had been in the same position as the character?
Is this character the type of person you would be friends with? Why or why not?