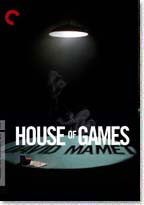 Margaret Ford (Lindsay Crouse) is a psychiatrist and author of book Driven: Compulsion and Obsession in Everyday Life, which has made her financially well off. One day, she's in a session with Billy (Steven Goldstein), a compulsive gambler who informs her that his life is in danger. He owes $25,000 to a criminal figure, money he doesn't have, and if he doesn't pay, he will be killed.
Margaret visits a pool hall and bar called the House of Games and confronts the man Billy owes, Mike (Joe Mantegna). Mike reveals that Billy's debt is only eight hundred dollars and agrees to forgive the debt if Margaret accompanies him to a high-stakes poker game as his girlfriend, using her to help spot the tell of another gambler (Ricky Jay).
Exhilarated at the chance to take part, Margaret even volunteers $6,000 of her own money to back up Mike's bet because she's spotted the tell that Mike's opponent is bluffing. Things go wrong. Not only does the player have a winning hand, he also brandishes a gun, demanding the $6,000 she promised as collateral. It is only when Margaret sees a drop of water fall from the pistol barrel that she realizes the whole setup is a con – designed strictly to take her money.
Back in her normal routine, Margaret continues to think about her night at the House of Games. She returns, proposing to Mike that she follow him around, learn the ins and outs of his world, perhaps write a book on the experience. Mike is skeptical but agrees. He shows her first-hand how a con game works. Her fascination grows. The pair end up going to a hotel room and making love.
Director: David Mamet
Year of Release: 1987

Character to watch: Lindsay Crouse as Dr. Margaret Ford.
Journal your answers to the following questions after you watch the movie.
How does this particular character's journey compare with yours?
Did the character develop certain characteristics during the movie that you have or that you would like to have? If so, what are those characteristics?
What obstacles did this character face? What was his or her biggest challenge?
What would you have done differently if you had been in the same position as the character?
Is this character the type of person you would be friends with? Why or why not?