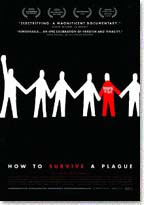 How to Survive a Plague is the story of two coalitions-ACT UP and TAG (Treatment Action Group)-whose activism and innovation turned AIDS from a death sentence into a manageable condition. Despite having no scientific training, these self-made activists infiltrated the pharmaceutical industry and helped identify promising new drugs, moving them from experimental trials to patients in record time.
With unfettered access to a treasure trove of never-before-seen archival footage from the 1980s and '90s, filmmaker David France puts the viewer smack in the middle of the controversial actions, the heated meetings, the heartbreaking failures, and the exultant breakthroughs of heroes in the making.
Nominated for an Academy Award® for Best Documentary and featured on over 15 top-ten lists, HOW TO SURVIVE A PLAGUE is the story of the brave young men and women who successfully reversed the tide of an epidemic, demanded the attention of a fearful nation, and stopped AIDS from becoming a death sentence.
This improbable group of activists bucked oppression and infiltrated government agencies and the pharmaceutical industry, helping to identify promising new medication and treatments and move them through trials and into drugstores in record time.
In the process, they saved their own lives and ended the darkest days of a veritable plague, while virtually emptying AIDS wards in American hospitals. Theirs is a classic tale of activism that has since inspired movements for change in everything from breast cancer research to Occupy Wall Street.
Director: David France
Year of Release: 2012

Character to watch: Larry Kramer as Himself.
Journal your answers to the following questions after you watch the movie.
How does this particular character's journey compare with yours?
Did the character develop certain characteristics during the movie that you have or that you would like to have? If so, what are those characteristics?
What obstacles did this character face? What was his or her biggest challenge?
What would you have done differently if you had been in the same position as the character?
Is this character the type of person you would be friends with? Why or why not?