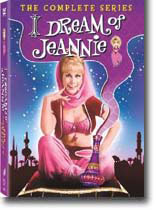 Air Force captain Anthony "Tony" Nelson (Larry Hagman) is stranded on a desert island after his space capsule malfunctions on re-entry. While he is there, he finds a bottle and upon opening it he releases a beautiful genie named, coincidentally, Jeannie (Barbara Eden) who was trapped in the bottle by the evil Blue Djinn (Michael Ansara). Eventually, Tony is rescued and he brings Jeannie back with him.
The only other person who knows of her existence is Tony's best friend, Army captain Roger Healey (Bill Daily). Tony tries to keep her existence a secret from Air Force psychiatrist Colonel Alfred Bellows (Hayden Rorke) and his wife Amanda (Emmaline Henry) and he is successful for a few years until he asks Jeannie to marry him. He then reveals Jeannie's existence, but not her powers, to the world.
You've got a blond bombshell, who is eager to please in every way a man could imagine, living out of wedlock with an astronaut, who represented the most heroic all-American roll models we had back in the 1960's. And somehow, for years, this show provided good clean TV fun for millions of viewers.

Character to watch: Barbara Eden as Jeannie.
Journal your answers to the following questions after you watch the series.
How does this particular character's journey compare with yours?
Did the character develop certain characteristics during the movie that you have or that you would like to have? If so, what are those characteristics?
What obstacles did this character face? What was his or her biggest challenge?
What would you have done differently if you had been in the same position as the character?
Is this character the type of person you would be friends with? Why or why not?