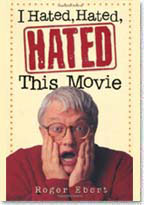 A collection of more than 200 of Ebert's most biting, hilarious and sometimes savage reviews — by what one web critic calls "the bad movie's worst enemy."
I Hated, Hated, Hated This Movie is a great title, but it doesn't really sum up this book. It's a collection of reviews of movies rated between zero and two stars – and if you know Roger Ebert's ratings system, you'll know that two stars isn't by any means a total pan.
It's also quite amusing to try to imagine how these movies ever got made in the first place – some of them leave you wondering how it is that the producers did not notice they didn't have a script until after shooting started. Others leave you wondering why the actors and director didn't take the easy way out and simply quit rather than complete the movie.
It could be argued that Ebert is truly at his best when he is savagely attacking the worst films ever made. While his criticism is always sharp and insightful, his negative reviews are much more entertaining, employing sarcasm, bitterness, and outright hatred for the drivel he must endure. The book provides a diverse selection, ranging from the early 1970s to more recent disasters.
Although he attacks small, obscure works, he is much more satisfied attacking the giants; the "sacred cows" of cinema that, by virtue of their budgets, are believed to be above criticism. Ebert is dedicated to his craft and would probably prefer to spend his time in the company of classics, but few individuals display such giddiness when given the "privilege" of witnessing true cinematic chaos. His humor is to our benefit.
About the Author: Roger Ebert is the Pulitzer Prize-winning film critic from the Chicago Sun-Times. His reviews are syndicated to more than 200 newspapers in the United States and Canada. The American Film Institute and the School of the Art Institute of Chicago have awarded him honorary degrees, and the Online Film Critics Society named his Web site, RogerEbert.com, the best online movie-review site.
Author: Roger Ebert
Year of Release: 2000