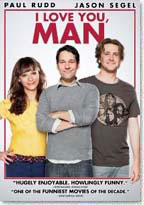 Peter Klaven (Paul Rudd), a real estate agent, just got engaged to longtime girlfriend Zooey Rice (Rashida Jones). Zooey is ecstatic about the engagement and calls her friends Denise (Jaime Pressley) and Hailey (Sarah Burns) to tell them about it, but Peter does not seem to have any close friends to share the good news with.
While visiting his parents, it's revealed that Peter is apparently more adept at getting along with women, and has a history of allowing his male friends to fall by the wayside when he is involved with a woman. After overhearing Zooey's female friends voicing their concerns over his lack of close male friends, Peter realizes he needs to find male friends in order to have a best man for his upcoming wedding.
Peter turns to his gay younger brother, Robbie (Andy Samberg), for advice on dealing with men. He attends a Los Angeles Galaxy game with a man named Lonnie (Joe Lo Truglio), who has a rather loud and annoyingly high pitched voice, and who starts fighting with fellow spectators. He has dinner with another man named Doug (Thomas Lennon), who he soon discovers is gay and thought Peter was as well.
Peter also has lunch with an elderly man named Mel (Murray Gershenz). He even joins Denise's somewhat hostile husband, Barry (Jon Favreau), and his friends for their poker night. Barry is not fond of Peter in the first place, a situation which soon escalates; Peter inadvertently projectile-vomits on Barry after winning a beer-drinking contest, prompting an angry Barry to kick him out of his house.
What a refreshing and insightful film! This brilliant story also compares male homosexual and heterosexual same-sex relationships and on the surface, at least, they are indistinguishable. This might be news to some people – but all well-adjusted human beings have a yearning for emotionally rewarding relationships.
Director: John Hamburg
Year of Release: 2009

Character to watch: Paul Rudd as Peter Klaven.
Journal your answers to the following questions after you watch the movie.
How does this particular character's journey compare with yours?
Did the character develop certain characteristics during the movie that you have or that you would like to have? If so, what are those characteristics?
What obstacles did this character face? What was his or her biggest challenge?
What would you have done differently if you had been in the same position as the character?
Is this character the type of person you would be friends with? Why or why not?