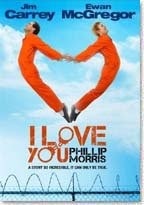 Steven Russel (Jim Carrey) is a cop who is happily married to Debbie. After a car accident he decides to be open about his true sexuality and live life to the fullest, even if that means breaking the law. He lands in jail for fraud and falls in love with fellow inmate Phillip Morris (Ewan McGregor).
Steven cannot bear to be separated from Phillip. After being released, he helps get Phillip freed from prison by posing as a lawyer, then becomes wealthy by pretending to be a chief financial officer of a large medical company. Steven gets caught embezzling from the company and goes back to prison. Phillip is also sent to jail as an accomplice, and angrily tells Steven he never wants to see him again.
I Love You Philip Morris tells the real life story of Steven Jay Russell, who in 1998 received an unprecedented 144-year prison sentence for fraud, conning, impersonating, and multiple escapes from Houston's Harris County Jail. The film shows us sequences that seem utterly impossible, but in fact actually happened, which only goes to show that truth really is stranger than fiction.
No, I will not describe them to you. Enjoying the film depends on the audience's reaction to Russell's actions. It's a little like a magician revealing his secrets; the trick itself is a lot of fun, but seeing what went into making the trick work can be quite fascinating, especially when you realize just how much effort goes into making something look simple. The apparent ease with which he executes his schemes is equally mind boggling.
Jim Carrey's portrayal of Russell is a delightful bag of contradictions. He's funny but touching, exaggerated but believable, contemptible but justified, caring but manipulative. There are times when it seems like he's thinking of no one other than himself, and there are other times when it's clear that he does what he does out of love.
It's a daring, complex performance, and it's for reasons other than the fact that his character is gay; it establishes that Carrey is capable of something deeper than outlandish personalities and extreme physical comedy. His take on Russell is engaging, although it's not necessarily understandable. This isn't a criticism. Sometimes, it's preferable for audiences to figure out characters for themselves, for them to put their own spin on why certain people are they are way they are.
Directors: John Requa, Glenn Ficarra
Year of Release: 2009

Character to watch: Jim Carrey as Steven Russel.
Journal your answers to the following questions after you watch the movie.
How does this particular character's journey compare with yours?
Did the character develop certain characteristics during the movie that you have or that you would like to have? If so, what are those characteristics?
What obstacles did this character face? What was his or her biggest challenge?
What would you have done differently if you had been in the same position as the character?
Is this character the type of person you would be friends with? Why or why not?