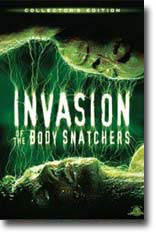 The wide-open mouths, extended fingers, and high-pitched screeching of Invasion of the Body Snatchers should be enough to keep you locked in your house for at least a week. Jack Finney's classic science fiction novel has been the basis of three big-screen adaptations, beginning with the 1956 chiller Invasion of the Body Snatchers and most recently as 1994's underrated Body Snatchers.
This acclaimed 1978 version from director Philip Kaufman is every bit as creepy as the '56 original, and it fits perfectly into the cycle of paranoid thrillers that thrived in American movies of the 1970s.
Kaufman stylishly directs from an intelligent screenplay by W.D. Richter, while Donald Sutherland and Brooke Adams lead a distinguished cast (Jeff Goldblum, Leonard Nimoy, and Veronica Cartwright) and must fight for survival as the population of San Francisco is systematically cloned by alien "pods" from a distant, dying planet.
The atmosphere of dread and paranoia grows increasingly intense as the complexity of the alien invasion is gradually revealed, until nobody can be trusted to be who they appear. Finely tuned performances enhance the film's eerie atmosphere, highlighted by moments that will lurk in your memory long after the movie's over.
Director: Philip Kaufman
Year of Release: 1978

Character to watch: Donald Sutherland as Matthew Bennell.
Journal your answers to the following questions after you watch the movie.
How does this particular character's journey compare with yours?
Did the character develop certain characteristics during the movie that you have or that you would like to have? If so, what are those characteristics?
What obstacles did this character face? What was his or her biggest challenge?
What would you have done differently if you had been in the same position as the character?
Is this character the type of person you would be friends with? Why or why not?