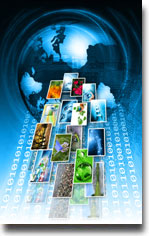 In the U.S., the average cable or satellite TV package costs around $80 per month. An average DirectTV package is $150 per month – that's $1800 per year or $18,000 over ten years. Even more frightening, prices are expected to reach $200 per month by 2020. Even at the current figures, watching television for entertainment has become quite the investment.
It makes sense for all of us to consider our viewing habits and cord-cutting options. Cutting the cable/satellite cord is not just wishful thinking anymore – it's become a reality. In 2012, 18 percent of parents surveyed through Parent Magazine had already cut the cord. Major national retailers like Best Buy are offering more and more cord-cutting solutions.
Many people have difficulty determining if they are ready to cut the cord. Here are some tips to help you figure it out. For one thing, if you are satisfied with the content from services like Netflix, Hulu Plus, and Amazon Instant Video, you're basically ready to cut the cord. Additionally, if you can access the major networks (ABC, CBS, FOX, and NBC) with an antenna, you probably won't even need Hulu.
Most popular U.S. TV shows can be found to stream from somewhere. In some cases, you'll have multiple sources for them. You may be able to view a series or movie through a one-price, all-you-can-watch streaming services. Or you may have to pay for a season pass to watch the latest episodes of a show, which may be the most cost-effective way to cut the cord, as long as your list of regular shows isn't extraordinarily long.
Since they won't be all together under a cable menu but scattered over different sources, you will need to make a spreadsheet to organize them. One of the things you are paying the big bucks for with cable is that it organizes many sources of shows and movies. To a certain extent, when you pay that high cable bill, part of its value is this convenience.
Before cuttig the corc, take a look at the specific expenses you are facing when it comes to paying for access to the content you want. Add up the total cost for all the season passes on the spreadsheet and divide them by 12, which will give you the monthly cost. Add the costs for any additional streaming services you'll want, such as Netflix ($8) Hulu Plus ($8) or Amazon Prime ($8.25 monthly, but paid as an annual $99 fee).
And more services are on the way. Sling TV and HBO for one. Also, Apple is rumored to be launching its own streaming TV offering for around $40 a month, to coincide with an Apple TV hardware update. If you find the total cost is significantly less that the cost of your cable/satellite bill, cord cutting may be for you.