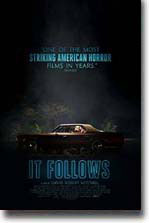 After carefree teenager Jay (Maika Monroe) sleeps with her new boyfriend, Hugh (Jake Weary), for the first time, she learns that she is the latest recipient of a fatal curse that is passed from victim to victim via sexual intercourse. Death, Jay learns, will creep inexorably toward her as either a friend or a stranger. Jay's friends don't believe her seemingly paranoid ravings, until they too begin to see the phantom assassins and band together to help her flee or defend herself.
On one hand it's easy to go wild on the loaded premise to infer a variety of pointed ideas and grand-standing moralizing about young sex. So there is a decent academic backbone and intelligence to the feature as well. But besides being well-shot, nicely acted and coolly scored, the film is simply scary like few others ever are.
Long moments of unsettling dread, creepy visuals, shocking apparitions – the movie nails its most important priority of being frighteningly tense. Unlike other pat horror films where the same rhythms of rest and attack are easily defined and observed, this film does a great job of imbuing even the dullest moments with a sense of danger. Nowhere is safe from this monster, as even the brightest and busiest places cannot offer shelter from its unrelenting attack.
A jaded viewer might gripe about some of the its logical fallacies and ambiguities, the subpar climax, and its low-budget effects. In fact, there's ample room for a few more inspired moments which the filmmakers unfortunately overlooked, since the movie does feel like it could have easily been more than the final results. Yet while those weaknesses aren't ideal, they barely detract from the overall experience of surviving this hellish ordeal. This movie's freshly invented abomination shares some characteristics of a ghost or zombie, yet is so much more in its elegant design.
Director: David Robert Mitchell
Year of Release: 2015

Character to watch: Maika Monroe as Jay.
Journal your answers to the following questions after you watch the movie.
How does this particular character's journey compare with yours?
Did the character develop certain characteristics during the movie that you have or that you would like to have? If so, what are those characteristics?
What obstacles did this character face? What was his or her biggest challenge?
What would you have done differently if you had been in the same position as the character?
Is this character the type of person you would be friends with? Why or why not?