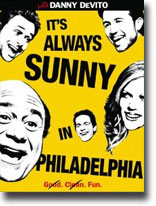 Four egocentric friends who run a neighborhood Irish pub in Philadelphia try to find their way through the adult world of work and relationships. Unfortunately, their warped views and precarious judgments often lead them to trouble, creating a myriad of uncomfortable situations that usually only get worse before they get better.
Along with all five seasons of one of the boldest, brashest series ever, this party pack contains outrageous bonus material they wouldn't dare show on T.V. Join Mac, Charlie, Dennis, his sister Dee, and their father Frank (Danny DeVito) at Paddy's Pub, where business as usual means sabotaging the bar down the street, selling coke for the mob and sleeping with each other's moms. Through it all, this wildly dysfunctional gang of friends will always find the most hilarious way to screw things up.
One of the few tv shows that is so good, it should be required viewing for any fan of tv sitcoms…except those who are easily offended. This is an ensemble show, with 5 main characters. All 5 are incredibly talented. It's not like other ensemble shows like Taxi, which was a great show…but had a few weak characters. Any of the characters on Sunny could be the funniest one on just about any other sitcom. They work together like clockwork. The dialogue is snappy and brilliant.

Character to watch: Danny DeVito as Frank Reynolds.
Journal your answers to the following questions after you watch the series.
How does this particular character's journey compare with yours?
Did the character develop certain characteristics during the movie that you have or that you would like to have? If so, what are those characteristics?
What obstacles did this character face? What was his or her biggest challenge?
What would you have done differently if you had been in the same position as the character?
Is this character the type of person you would be friends with? Why or why not?