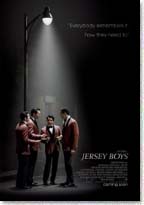 Jersey Boys is a musical biography of the Four Seasons-the rise, the tough times and personal clashes, and the ultimate triumph of a group of friends whose music became symbolic of a generation. Far from a mere tribute concert (though it does include numbers from the popular Four Seasons songbook), Jersey Boys gets to the heart of the relationships at the center of the group-with a special focus on frontman Frankie Valli, the small kid with the big falsetto.
In addition to following the quartet's coming of age as performers, the core of the show is how an allegiance to a code of honor learned in the streets of their native New Jersey got them through a multitude of challenges: gambling debts, Mafia threats and family disasters. Jersey Boys is a glimpse at the people behind a sound that has managed to endure for over four decades in the hearts of the public.
Translating a musical from the stage to the screen can be a difficult process. The translation of Jersey Boys has involved a refocussing on the narrative story, rather than the music. The structure of the story telling has been changed significantly from the stage show which tells the group's story from the perspective of each member.
Direction by Clint Eastwood was masterful – telling the story in a matter of fact fashion, effectively blending drama, emotion and humor. The interactions between the members of the band – in particular their tensions – are portrayed realistically.
Director:  Clint Eastwood
Year of Release: 2014

Character to watch: Vincent Piazza as Tommy DeVito.
Journal your answers to the following questions after you watch the movie.
How does this particular character's journey compare with yours?
Did the character develop certain characteristics during the movie that you have or that you would like to have? If so, what are those characteristics?
What obstacles did this character face? What was his or her biggest challenge?
What would you have done differently if you had been in the same position as the character?
Is this character the type of person you would be friends with? Why or why not?