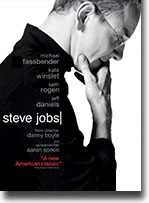 To understand just how much of a mystery Apple founder Steve Jobs is, one only needs to look at the number of films that have tried to figure him out. There have been documentaries, one feature film led by Ashton Kutcher (it wasn't as bad as it sounds) and only a couple of years later we have Aaron Sorkin and Danny Boyle's Steve Jobs, a brilliant, rapid-fire examination of parenthood, ego, and maniacal genius told in a refreshingly innovative way that Jobs himself would have loved.
Split into three distinct chapters covering three of Jobs' biggest product launches, Sorkin uses this three-act-play structure to also explore key facets of personal and professional life. While much of the film is based on Walter Isaacson's book, Sorkin does what he has always done which is extrapolate wildly, giving an approximation of Jobs as megalomaniacal madman and brilliant virtuoso.
Michael Fassbender tackles the role of Jobs and, let's be honest; the two look nothing alike. But that's actually a good thing; a little bit of distance from the reality is what's called for here. And yet Fassbender melts into the role so easily that you soon forget the difference and embrace his version, which presents Jobs as a calculating, cold-hearted douchebag, someone who disregards the people in his life in favor of press clippings about his own greatness.
And yet Jobs suffers one public and personal disgrace after another, but what's interesting is how he copes and manipulates these failures to suit his warped perspective. Much is made about the "reality distortion field" that surrounds him; anything and anyone that doesn't fit into the view he's constructed are callously disregarded.
The first chapter takes place minutes prior to the Macintosh launch in 1984, just days after that incredible '1984' Super Bowl ad. In a comical turn of events that will be repeated throughout the film, Jobs is confronted with conflicts both big and small, but it's his perception of which is which that is fascinating.
Director: Danny Boyle
Year of Release: 2015

Character to watch: Michael Fassbender as Steve Jobs.
Journal your answers to the following questions after you watch the movie.
How does this particular character's journey compare with yours?
Did the character develop certain characteristics during the movie that you have or that you would like to have? If so, what are those characteristics?
What obstacles did this character face? What was his or her biggest challenge?
What would you have done differently if you had been in the same position as the character?
Is this character the type of person you would be friends with? Why or why not?