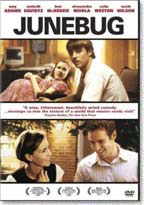 When newlywed Madeleine (Embeth Davidtz), an art dealer, travels from Chicago to North Carolina to pursue a local, self-taught painter for her outsider art gallery, she takes the opportunity to meet the family of her husband George (Alessandro Nivola) who live close by.There is his judgmental mother Peg (Celia Weston), his reserved father Eugene (Scott Wilson), and his resentful brother Johnny (Ben McKenzie), who still lives at home. Johnny is married to Ashley (Amy Adams), and there relationship is strained, but they believe that a baby will solve their marital problems.
Madeleine and George stay in the expected baby's nursery, and she becomes friends with Ashley. The family takes Madeline to a church service and she attends Ashley's baby shower.
Newlyweds George (Alessandro Nivola) and Madeleine (Embeth Davidtz) apparently had a small, private wedding because she has never met his family. When they find themselves traveling to North Carolina in order for Madeleine, an art gallery owner in Chicago, to court a promising folk artist, they naturally swing by to meet the folks.
It's quite a family. There's Dad (Scott Wilson), the strong, silent type who spends most of his time in the basement, woodworking and looking for his screwdriver; Mom (Celia Weston), the enigmatic, direct, suspicious mother; Johnny (Benjamin McKenzie), George's moody, taciturn, stand-offish brother; and Johnny's wife Ashley (Amy Adams), who literally lights up the screen with her over-excitable, spontaneous personality (she's also the only major actor in the film to speak anything like a native North Carolinian).
Ashley's the type who would drive many a person completely up the wall with her inability to ever stop talking and her immense wonder at everything in the world, but I quite fell in love with her from the very start. It's pretty obvious that part of her behavior is a front for some sadness, even desperation, in her life, and it's not hard to find the source – the uncommunicative Johnny, who seems to want nothing to do with anybody – especially George. Speaking of George, he sort of just disappears early on, leaving his fish-out-of-water wife to tackle all of his relatives on her own.
Director: Phil Morrison
Year of Release: 2005

Character to watch:  Embeth Davidtz as Madeleine.
Journal your answers to the following questions after you watch the movie.
How does this particular character's journey compare with yours?
Did the character develop certain characteristics during the movie that you have or that you would like to have? If so, what are those characteristics?
What obstacles did this character face? What was his or her biggest challenge?
What would you have done differently if you had been in the same position as the character?
Is this character the type of person you would be friends with? Why or why not?