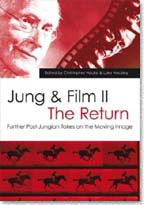 Since Jung and Film was first published in 2001, Jungian writing on the moving image in film and television has accelerated. Jung and Film II: The Return provides new contributions from authors across the globe willing to tackle the broader issues of film production and consumption, the audience and the place of film culture in our lives.
As well as chapters dealing with particular film makers such as Maya Derren and films such as Birth, The Piano, The Wrestler and Breaking the Wave, there is also a unique chapter co-written by documentary film-maker Tom Hurvitz and New York Jungian analyst Margaret Klenck. Other areas of discussion include:
the way in which psychological issues come under scrutiny in many movies
the various themes that concern Jungian writers on film
how Jungian ideas on psychological personality types can be applied in fresh ways to analyse a variety of characters.
The book also includes a glossary to help readers with Jungian words and concepts. Jung and Film II is not only a welcome companion to the first volume, it is an important stand- alone work essential for all academics and students of analytical psychology as well as film, media and cultural studies.
The relentless creative output of the post-Jungian critique of film rolls on and you can't ignore them. In this, their second volume of movie analyses, these writers – some academics, some clinicians, some both –  have returned in strength. While many psychoanalytic approaches to the moving image are starting to feel a little… what shall we say?… tired, the Jung-dude abides! And judging by the take-up of the first Jung and Film by Media and Film departments, clinical trainings and industry creatives alike, the out of date resistance to all things Jungian has witnessed a fast dissolve.
These chapters are erudite, funny, sexy, sometimes a little weird. They offer tight close-ups and wide shots. They tell you about the psychology of film and the psychology of those who make film. Like with Coppola's The Godfather – this sequel could be even better than what went before.
Authors: Christopher Hauke, Luke Hockley
Year of Release: 2011