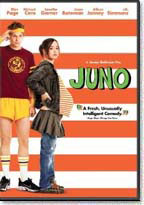 Sixteen-year-old Minnesota high-schooler Juno MacGuff (Ellen Page) discovers she is pregnant with a child fathered by her friend and longtime admirer, Paulie Bleeker (Michael Cera). She initially considers an abortion but decides to give the baby up for adoption.
With the help of her friend Leah (Olivia Thirlby), Juno searches the ads in the Pennysaver and finds a couple she feels will provide a suitable home. She tells her parents, Mac (J.K. Simmons) and stepmother, Bren (Allison Janney), who offer their support.
With Mac, Juno meets the couple, Mark and Vanessa Loring (Jason Bateman and Jennifer Garner), in their expensive home and agrees to a closed adoption. Juno visits Mark a few times, with whom she shares tastes in punk rock and horror films.
Mark, who has set aside his rock band youth (now confined to memorabilia displayed in the one room of the house that Vanessa has designated for Mark's personal belongings), works at home composing commercial jingles.
Juno and Leah happen to see Vanessa in a shopping mall being completely at ease with a child, and Juno encourages Vanessa to talk to her baby in the womb, where it obligingly kicks for her. As the pregnancy progresses, Juno struggles with the emotions she feels for the baby's father, Paulie, who is clearly in love with Juno.
Juno maintains an outwardly indifferent attitude toward Paulie, but when she learns he has asked another girl to the upcoming prom, she angrily confronts him. Paulie reminds Juno that it is at her request they remain distant and tells her that she broke his heart.
Teenage pregnancy is frequently a starting point for myriad philosophical arguments: some see it as a major problem, some see it as an argument for the need of early teaching of contraceptive technique and sex education, some see it as a reason for championing abortion, and some see it as a piece of life that confronts families in both positive and negative ways. Juno is a beautifully written (Diablo Cody) and directed (Jason Reitman) version of unplanned pregnancy offered by a splendid ensemble cast: it is a movie that could modify the sociologic outlook of many people in a very strong fashion.
Director: Jason Reitman
Year of Release: 2007

Character to watch: Ellen Page as Juno MacGuff.
Journal your answers to the following questions after you watch the movie.
How does this particular character's journey compare with yours?
Did the character develop certain characteristics during the movie that you have or that you would like to have? If so, what are those characteristics?
What obstacles did this character face? What was his or her biggest challenge?
What would you have done differently if you had been in the same position as the character?
Is this character the type of person you would be friends with? Why or why not?