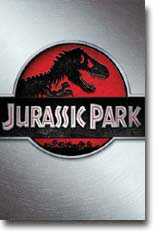 Steven Spielberg's Jurasic Park is one of the most intense and frightening films he's ever made. Based on Michael Crichton's novel about an island amusement park populated by cloned dinosaurs, the film works best as a thrill ride. There's no shortage of raw terror as a rampaging T-rex and nasty raptors try to make fast food out of the cast.
The effects are still astonishing despite the fact that the computer-generated technology has since been improved upon and at times primeval, such as the sight of a herd of whatever-they-are scampering through a valley.
Huge advancements in scientific technology have enabled a mogul to create an island full of living dinosaurs. John Hammond (Richard Attenborough) has invited four individuals, along with his two grandchildren, to join him at Jurassic Park. But will everything go to plan? Especially when one of the parks' own workers attempts to steal the dinosaur embryos, and has to shut down critical security systems in the process. It's now a race for survival with dangerous creatures roaming all over the island.
The story begins on Isla Nublar, a small island 120 miles off the coast of Costa Rica. A large group of construction workers and animal handlers offload a large container, the creature within unseen. During the process, the animal attempts to escape, an act which leads to a mass panic, and the death of one of the workers. The narrative jumps forward to an Amber mine in the Dominican Republic, where we learn that miners extracting amber are involved with a genetic-engineering company called InGen.
From here, we jump to a paleontological excavation in Montana, where we are introduced to our main heroes, Dr. Alan Grant, and his assistant Ellie Sattler, as they slowly uncover the fossilized remains of a Velociraptor, perhaps nature's most lethal and cunning predator to date, a beautiful specimen evolved to kill.
Director: Steven Spielberg
Year of Release: 1993

Character to watch: Laura Dern as Ellie Sattler.
Journal your answers to the following questions after you watch the movie.
How does this particular character's journey compare with yours?
Did the character develop certain characteristics during the movie that you have or that you would like to have? If so, what are those characteristics?
What obstacles did this character face? What was his or her biggest challenge?
What would you have done differently if you had been in the same position as the character?
Is this character the type of person you would be friends with? Why or why not?