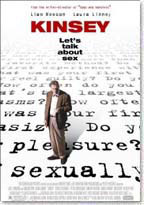 The movie "Kinsey" is based on the true story of Alfred Kinsey, a pioneer in the area of human sexuality research, whose 1948 publication "Sexual Behavior in the Human Male" was one of the first recorded works that saw science address sexual behavior. The film begins with Kinsey (Liam Neeson) being interviewed about his sexual history.
During the interview, there are flashbacks from his childhood and young-adulthood. The flashbacks are his experiences as a Boy Scout and when Kinsey disappointed his father by his chosen career in entomology. The next shows Kinsey teaching at Indiana University as a professor of biology where he Kinsey falls in love with a graduate student in his class, Clara McMillen, who he calls "Mac" (Laura Linney).
Kinsey and Mac marry and find that consummating their marriage is difficult at first. Mac has a medical problem that is fixed with minor surgery, after which she has an equally intense sexual appetite as her husband. Meanwhile, at the University, Professor Kinsey, meets with students after hours to offer individual sexual advice. Soon, Kinsey begins teaching a sex course to a packed auditorium.
Realizing that his knowledge is limited, he decides to interview subjects about their sexual histories, a monumental task that is accomplished with numerous assistant researchers. Kinsey and Mac have a variety of types of relationships with these assistants, some sexual in nature.
As the film succinctly shows, Alfred, the son of a puritanical minister that went so far as to rail against zippers for giving idle hands easy access to occasions for sin, grew up to be a zoologist whose obsession with collecting and studying the gall wasp gained him a measure of obscurity. However, after marrying Clara McMillen (Laura Linney), with whom he achieved sexual liberation after sorting out a few physical impediments with the help of a knowledgeable physician, Kinsey achieved local notoriety at Indiana University by teaching an enlightened and graphic sex education course for students and staff.
It was there that he first utilized questionnaires to elicit personal sexual histories, the methodology, administered by trained interviewers, that he later used in the thousands across the nation to build the database for his two books. We also see depicted the Kinsey couple's unconventional sexual relationship, as well as those of Alfred's cadre of interviewers and their wives. Hugh Hefner would've been proud to have the investigative team over to his mansion for a frolic.
Director: Bill Condon
Year of Release: 2004

Character to watch: Liam Neeson as Alfred Kinsey.
Journal your answers to the following questions after you watch the movie.
How does this particular character's journey compare with yours?
Did the character develop certain characteristics during the movie that you have or that you would like to have? If so, what are those characteristics?
What obstacles did this character face? What was his or her biggest challenge?
What would you have done differently if you had been in the same position as the character?
Is this character the type of person you would be friends with? Why or why not?