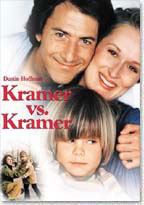 Ted Kramer (Dustin Hoffman) is an advertising executive who has just been assigned a lucrative new account. Ted rushes home and shares the good news with his wife Joanna (Meryl Streep) only to find that she is leaving him.
Saying that she needs to find herself, she leaves Ted to raise their son Billy (Justin Henry) by himself. Ted and Billy initially don't get along under the newly imposed pressure and Billy misses his mother. After months of adjusting, Ted and Billy learn to cope and gradually bond as father and son.
Ted befriends his neighbor Margaret (Jane Alexander), who had counseled Joanna to leave Ted because she was unhappy. Margaret is a fellow single parent and she and Ted become good friends. Fifteen months after Joanna walked out, she returns to New York to claim Billy, and a custody battle ensues.
During the custody hearing, both Ted and Joanna's lawyers level brutal character assassinations at the opposing parent. Margaret is forced to testify that she had advised Joanna to leave Ted, though but she attempts to tell Joanna on the stand that her husband has changed.
The acting is flawless; so flawless that it doesn't even appear that they are acting. Hoffman is simply a joy in this movie. He's superb, and the love that grows between him (Ted) and his son (Billy) is so moving and sincere. It's just as powerful, if not more, than any romantic storyline out there in the movies. This is love. A love between a boy and his father. It's deep love.
The type of man which Ted grows to be is a beautiful human being, and this is all due to love. He becomes a perfect role model for what a parent should be. Hoffman is excellent. The boy actor is perfect. Another reason why I like this film is because it shows that a person is capable of change, after all.
Director: Robert Benton
Year of Release: 1979

Character to watch: Meryl Streep as Joanna Kramer
Journal your answers to the following questions after you watch the movie.
How does this particular character's journey compare with yours?
Did the character develop certain characteristics during the movie that you have or that you would like to have? If so, what are those characteristics?
What obstacles did this character face? What was his or her biggest challenge?
What would you have done differently if you had been in the same position as the character?
Is this character the type of person you would be friends with? Why or why not?