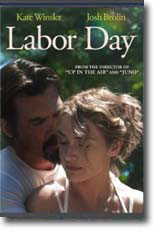 Labor Day begins when Adele (Kate Winslet) shows us with just a few gestures that she is not a happy woman, afraid to drive her car out of the driveway with her 13 year old son in tow to make her monthly trip to the local market. The son Henry (Gattlin Griffith) sees his mother's on-going depression, along with the information that she had been left by her husband, his father, and had grown steadily sadder since.
Henry gives up a much sunnier life with his father and new wife and kids to become his mother's keeper, watching her constantly, helping, correcting and gently guiding his trembling and troubled mom through life.
When their marketing trip is disturbed by a menacing, bleeding man in the store (Josh Brolin), the two find themselves virtually kidnapped by him. The man forces Adele to take him to her home, so that he can "lay low" until night, after which he will leave them as he found them.
Adele and Henry are suitably frightened and upset, especially when the man, Frank Chambers, ties Adele to a chair, with the "I'm a nice guy caveat" that she will now be able to honestly tell police she had been kidnapped (as if she would do anything else after a kidnapping).
We learn from a variety of sources, television, neighbors, cops, that Frank is an escaped convict, a murderer no less. The information doesn't make Adele and Henry relax much, but true love, with a generous slathering of sexy romance thrown in, can make bedfellows of the strangest people.
Director: Jason Reitman
Year of Release: 2013

Character to watch: Kate Winslet as Adele.
Journal your answers to the following questions after you watch the movie.
How does this particular character's journey compare with yours?
Did the character develop certain characteristics during the movie that you have or that you would like to have? If so, what are those characteristics?
What obstacles did this character face? What was his or her biggest challenge?
What would you have done differently if you had been in the same position as the character?
Is this character the type of person you would be friends with? Why or why not?