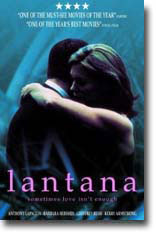 It's always slightly shocking to see a movie in which the actors look and behave like real people rather than glamorous movie stars and that's part of the power of Lantana. But its real strength lies in its carefully observed script and the rich, committed performances of its cast.
Anthony LaPaglia stars as a cop with an unsteady marriage; when he begins to investigate the disappearance of a noted therapist (Barbara Hershey), he suspects that her marriage to an academic (Geoffrey Rush) was similarly troubled, and he pursues the case as if his own marriage could be redeemed through it.
Every character in Lantana is fully developed, sometimes with astonishing conciseness; the coincidences that drive the plot seem as faultlessly organic as the ones that might happen in your own experiences.
Andrew Dovell wrote the subtle, richly attired script, full of penetrating dialogue and an uncompromising veracity, adapting it from his play Speaking in Tongues. Ray Lawrence directed in an unusual but compelling manner in which the scenes are sharply focused and cut to linger in our minds. Again and again I was startled with just how exactly right was something a character said or did. Lawrence's exacting attention to detail gives the film a textured and deeply layered feel so that one has the sense of real life fully lived.
The cast is uniformly excellent although LaPaglia stands out because of his most demanding role. His performance is one of the best I have seen in recent years. The only weakness in the film is a somewhat lethargic start, partially caused by Lawrence's cinéma vérité scene construction and editing. What he likes to do is lead us to a realization along with the characters and then punctuate the experience by lingering on the scene, or in other cases by cutting quickly away.
Director: Ray Lawrence
Year of Release: 2001

Character to watch: Anthony LaPaglia as Detective Leon Zat.
Journal your answers to the following questions after you watch the movie.
How does this particular character's journey compare with yours?
Did the character develop certain characteristics during the movie that you have or that you would like to have? If so, what are those characteristics?
What obstacles did this character face? What was his or her biggest challenge?
What would you have done differently if you had been in the same position as the character?
Is this character the type of person you would be friends with? Why or why not?