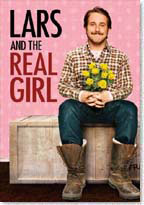 Lars Lindstrom (Ryan Gosling) lives in the converted garage behind the house he and his brother Gus (Paul Schneider) inherited from their late father. Karin (Emily Mortimer), Lars's pregnant sister-in-law's persistent attempts to lure him into the house for a family meal are usually rebuffed, and on the rare occasions he accepts, their conversation is stilted and he seems eager to leave as soon as he can.
The young man finds it difficult to interact with or relate to his family, co-workers, or fellow parishioners in the church he regularly attends. Margo (Kelli Garner), Lars's co-worker, is clearly interested in him, but Lars runs silently from her at every chance he gets.
One day Lars happily announces to Gus and Karin he has a visitor he met via the Internet, a wheelchair-bound missionary of Brazilian and Danish descent named Bianca. The two are startled to discover Bianca is, in fact, a lifelike doll Lars ordered from an adult website.
Concerned about his mental health, they convince Lars to take Bianca to Dagmar (Patricia Clarkson), the family doctor who is also a psychologist. Dagmar diagnoses Bianca with low blood pressure and advises Lars he needs to bring her in for weekly treatments, during which she will attempt to analyze him and get to the root of his behavior. She explains to Gus and Karin that this is a delusion of his own creation and for his own reason and purpose, and she urges them to assist with Lars's therapy by treating Bianca as if she were a real woman.
The surprise is that it comes to life for him. Everyone else sees a slightly creepy adult toy, but he brings "Bianca" everywhere – to dinner with his brother and sister in law, to a Christmas party with his co-workers, even to church. He concocts an elaborate fantasy about why she says so little, why she needs a wheelchair, even why she needs to borrow clothing. A psychologist tries to address his delusion but, while it works itself out, recommends humoring him. And so, the entire community does. If they're going to treat her as real, they're going to do it right.
Therein lies the quirky charm of this movie – an entire town rallying around one of their own, playing their part in his odd drama. If that's what's best for him and there's no harm in it, they'll do it. A few balk, of course, but only a few and not for long. They accept Bianca fully into their community, sometimes to Lars's dismay.
The happy ending (happy enough) makes this into a movie about redemption, but that over-simplifies this complex film. The premise looks like some modern-day fairy tale. Once set in motion, the movie carries itself forward with understated kindness, maybe even nostalgia for a small-town closeness, whether that closeness ever existed or not.
Director: Craig Gillespie
Year of Release: 2007

Character to watch: Ryan Gosling as Lars Lindstrom.
Journal your answers to the following questions after you watch the movie.
How does this particular character's journey compare with yours?
Did the character develop certain characteristics during the movie that you have or that you would like to have? If so, what are those characteristics?
What obstacles did this character face? What was his or her biggest challenge?
What would you have done differently if you had been in the same position as the character?
Is this character the type of person you would be friends with? Why or why not?