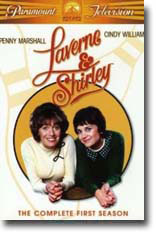 As a spin-off from the television series Happy Days, Laverne & Shirley was an instant hit and one of the most popular sitcoms of the '70s. While a bit quaint by contemporary standards, its light-hearted sentiment is strictly old-school, due to the crowd-pleasing influence of producer and cocreator Garry Marshall. As working-class roommates in mid-1950s Milwaukee, Laverne De Fazio (Penny Marshall) and Shirley Feeney (Cindy Williams) were a classic case of opposites.
Laverne was relatively saucy and cynical, while Shirley was cheerfully naive and eternally optimistic. As bottle-cappers at the Shotz brewery, they regularly associated with colleagues (and eventual neighbors) Lenny (Michael McKean) and Squiggy (David L. Lander), and as an inaugural ratings-booster, Happy Days superstar Henry Winkler (as "Fonzie") appears in the first three episodes including "Bowling for Razzberries," later named by TV Guide as a classic episode. As Shirley's crooning would-be beau, Carmine "The Big Ragoo" Rugusa (Eddie Mekka) provided a touch of romance to Shirley's otherwise lackluster love life.
Despite personal rancor that later erupted between its energetic costars, Laverne & Shirley was always a showcase for polished, professional comedy and effortless chemistry between characters, giving it widespread appeal.
A mid-season replacement with a prime time-slot (following Happy Days at 8:30 Tuesdays on ABC) the show placed its good-natured characters in a variety of standard sitcom predicaments, typically set in L&S's apartment, the "Pizza Bowl" diner run by Laverne's father Frank (Phil Foster), or the Shotz brewery, where some of the show's funniest slapstick humor emerged.
These 15 episodes are guaranteed to please longtime fans on a stroll down memory lane, but bonus features are nonexistent, and newcomers may not relate to the clean-cut humor of a bygone era. Still, Laverne & Shirley started strong and continued to improve, at least for another season or two, with a variety of popular guest stars. This three-disc set represents the best of times for everyone involved.
This series was probably one of the funniest duo's in comedy since Laurel and Hardy or Abbott and Costello. The pairing of Marshall and Williams was an instant success that won many fans and will no doubt find more in the future.

Character to watch: Penny Marshall as Laverne De Fazio.
Journal your answers to the following questions after you watch the series.
How does this particular character's journey compare with yours?
Did the character develop certain characteristics during the movie that you have or that you would like to have? If so, what are those characteristics?
What obstacles did this character face? What was his or her biggest challenge?
What would you have done differently if you had been in the same position as the character?
Is this character the type of person you would be friends with? Why or why not?