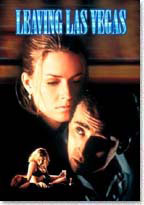 Ben Sanderson (Nicolas Cage) is a Hollywood screenwriter whose alcoholism costs him his job, family, and friends. With nothing left, he goes to Las Vegas to drink himself to death. As he drives drunkenly down the Las Vegas Strip, he almost hits a woman in the crosswalk, Sera (Elizabeth Shue), who chastises him. Ben checks into a sleazy motel called The Whole Year Inn.
On his second day in Las Vegas, Ben meets Sera, on the street where he first met her, introduces himself and offers $500 to go to his room for an hour. Sera agrees to go to his room, but Ben does not want sex. Instead, they talk and create an odd relationship. Their relationship is defined by rules; Sera has to promise Ben she will never ask him to stop drinking, and Ben is not allowed to criticize Sera's occupation.
At first the two are stable, as Ben is at ease with Sera's prostitution. However, each becomes frustrated with the other's behavior. Sera attempts to get Ben to eat but Ben only wants more alcohol. Sera begs him to see a doctor. Ben, furious but intoxicated, brings another prostitute (Mariska Hargitay) to Sera's house. Sera returns home and throws Ben out. Shortly afterward, she is raped and beaten by three college students. After being evicted, Sera gets a call from Ben, who is on his deathbed.
Watching `Leaving Las Vegas' can be an experience that takes a gloomy sadness to the interiors of your existence and keeps you immersed in it. As human beings, we consistently put the highest premium on our being alive. Experiencing the intensity of a despondent Nicolas Cage committed to taking his life by drinking himself to death, can trigger off a question as to what can prepare someone for such an act of self-destruction. Intriguingly enough we get no clear answers though there is a clear hint as to it might have been a profound sense of loss or failure.
Singular focus on the moribund obsessions of Cage would be gross injustice to the incredibly touching love and empathy that he shares with the lead female protagonist – Elisabeth Shue – who plays a hooker's role with levels of dexterity rarely attained. There is a very deep understanding and mutual acceptance between the two lead characters that is in many ways the true highlight of this movie. Interestingly, we see no reasons for this to exist but such is the articulacy of characterization that not even for a second does one find this profound relationship unrealistic.
'Leaving Las Vegas' is an iconoclastic love story whose control over the audience is fascinating. Such is the brilliance of the performances that you feel a lump in your heart by the end of the movie – and this lump transcends into the depths of your being – to stay there and to remind you that unconditional love exists and so does the capability to invite your own death to walk up to you – gradually and consistently. 'Leaving Las Vegas' is a movie that would haunt you for its portrayal of love intertwined with morbid realities of life.
Director: Mike Figgis
Year of Release: 1995

Character to watch: Nicolas Cage as Ben Sanderson.
Journal your answers to the following questions after you watch the movie.
How does this particular character's journey compare with yours?
Did the character develop certain characteristics during the movie that you have or that you would like to have? If so, what are those characteristics?
What obstacles did this character face? What was his or her biggest challenge?
What would you have done differently if you had been in the same position as the character?
Is this character the type of person you would be friends with? Why or why not?