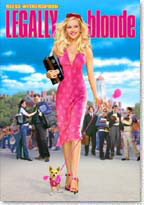 In her senior year as a Southern California college student, girlish sorority president Elle Woods (Reese Witherspoon) majors in fashion merchandising and is hopelessly in love with her boyfriend, Warner Huntington III (Matthew Davis), who will attend Harvard Law School the following year. She excitedly expects him to ask her to marry him, but he breaks up with her instead, claiming that he has to be with someone more serious.
After spending days holed up in her room depressed, Elle goes to get her nails done. While waiting, she finds an article about Warner's older brother and his new fiancee, whom he met in law school. Desperate to win Warner back, Elle takes the Law School Admission Test, applies to Harvard, and is accepted. Upon arriving, she discovers that Warner is engaged to another student, Vivian Kensington (Selma Blair).
After Vivian tricks Elle into attending a party in a Playboy Bunny costume, Elle has a discussion with Warner and finally realizes he will never respect her. Determined to succeed on her own, Elle studies hard and wins an internship with one of the law professors, as do Warner and Vivian.
Two years later, Elle, who has graduated with high honors, is the class-elected speaker at the ceremony, and has been invited into one of Boston's best law firms; Vivian is now Elle's best friend and has called off her engagement with Warner, who graduated without honors, no girlfriend, and no job offers.
Director: Robert Luketic
Year of Release: 2001

Character to watch: Reese Witherspoon as Elle Woods.
Journal your answers to the following questions after you watch the movie.
How does this particular character's journey compare with yours?
Did the character develop certain characteristics during the movie that you have or that you would like to have? If so, what are those characteristics?
What obstacles did this character face? What was his or her biggest challenge?
What would you have done differently if you had been in the same position as the character?
Is this character the type of person you would be friends with? Why or why not?