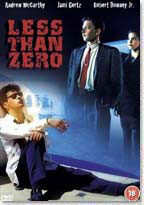 Clay Easton (Andrew McCarthy) is a college freshman who returns home to Los Angeles, California, for Christmas to find things very different from the way he left them. His high school girlfriend, Blair (Jami Gertz), has become addicted to drugs and has been having sex with his high school best friend, Julian Wells (Robert Downey, Jr.).Julian has become a drug addict and has been cut off by his family for stealing to support his habit. Julian is also being hassled by his dealer, Rip (James Spader), for a debt of $50,000 that he owes to him.
Clay's relationship with Blair rekindles and Julian's behavior becomes more volatile. His addiction is worsening and since he does not have the money to pay off his debt, Rip forces him to become a prostitute to work off the debt. After suffering through a night of being sick from not being able to score drugs and hiding from Rip, Julian decides to quit and begs his father (Nicholas Pryor) to help him.
He then tells Rip the next day his plans for sobriety, which Rip does not believe and lures Julian back into doing drugs and hooking. Clay finds Julian and rescues him and after a violent confrontation with Rip and his henchman. They escape and begin the long drive to the desert so Julian can achieve sobriety once and for all.
This is a moving movie and the acting is brilliant most of the time, especially from Robert Downey Jr. He plays the part of the hopeless junky so well that it's almost eerie sometimes. Jamie Gertz did a good job playing the hypocritical yet caring friend who makes it her mission in life to protect the Downey Jr. character. And Andrew McCarthy puts off just the right mixture of depth of feeling and the detachment of an outsider who's been away for too long. The casting was great and they did what they could to make this a good movie, and succeeded. It was real, scary, intelligent, and suspenseful.
Director: Marek Kanievska
Year of Release: 1987

Character to watch: Robert Downey Jr. as Julian Wells.
Journal your answers to the following questions after you watch the movie.
How does this particular character's journey compare with yours?
Did the character develop certain characteristics during the movie that you have or that you would like to have? If so, what are those characteristics?
What obstacles did this character face? What was his or her biggest challenge?
What would you have done differently if you had been in the same position as the character?
Is this character the type of person you would be friends with? Why or why not?