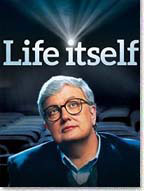 Those of you have followed my Cinema Therapy blog over the years know how deeply I respected Roger Ebert. This is partly because I was born in Chicago, and because I find it to be one of the most beautiful cities, with the downtown bridges arching high over the river running into Lake Michigan. But aside from my strong nostalgia for Chicago, there is my lifelong love of film and film criticism. Of course, there is no greater film critic than Ebert.
The Roger Ebert documentary, Life Itself, is an extremely personal look at a man who is considered by many to be the patron saint of film criticism. He was the inspiration for instilling a love of movies that was evident every single time he wrote or spoke about cinema. This was before the age of the Internet, a time when we got our news from gasp newspapers or on a handful of television channels. Ebert was a giant, and Life Itself is a great movie that meets the challenge of bringing his book of the same name to film.
Steve James, whose documentary Hoop Dreams was championed by Ebert, took on the project while Ebert was still very much an active presence in print and social media. It would be monthes later during production that Ebert's hard-fought battle with cancer would claim his life, just as it had claimed his power of speech some time back.
James does not make this a story about the man's passing, although we are taken through the heartbreaking ups 'n downs of his final weeks. This is a look back at the life of a man emboldened by an insatiable thirst for knowledge, and an undying gift for communication. Ebert made film criticism personable without speaking down to his audience; he respected them too much for that.
It was an attitude he learned while fighting for that same respect in the pits of his college newspaper, the Fighting Illini, penning volatile, politically-charged editorials that stirred the mind. What shines through is his intelligence on any number of subjects, whether its politics, sports, and of course, film. Much of Ebert's story is told by the man himself, in his own voice.
Director: Steve James
Year of Release: 2014

Character to watch: Roger Ebert as Roger Ebert.
Journal your answers to the following questions after you watch the movie.
How does this particular character's journey compare with yours?
Did the character develop certain characteristics during the movie that you have or that you would like to have? If so, what are those characteristics?
What obstacles did this character face? What was his or her biggest challenge?
What would you have done differently if you had been in the same position as the character?
Is this character the type of person you would be friends with? Why or why not?