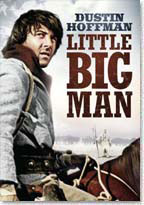 121-year-old Jack Crabb (Dustin Hoffman) recounts his colorful life story to a curious historian (William Hickey). Among other things, Crabb had been a captive of the Cheyenne, a gunslinger, an associate of Wild Bill Hickok (Jeff Corey), and a scout for General George Armstrong Custer (Richard Mulligan).
Jack and his older sister Caroline (Carole Androsky) had survived the massacre of their parents by the Pawnee. Jack and his sister are taken back to a Cheyenne village. Caroline manages to escape on horseback, but Jack is reared by good-hearted tribal leader Old Lodge Skins (Chief Dan George). Jack unwittingly makes an enemy of another boy, Younger Bear (Cal Bellini); however, Younger Bear eventually owes his life to Jack.
Jack is given the name "Little Big Man" because he's short but very brave. When Jack is 16, he is recaptured by U.S. cavalry troopers and renounces his Native American upbringing in order to save himself. He is put in the care of Reverend Silas Pendrake (Thayer David) and his sexually frustrated wife, Louise (Faye Dunaway), who tries to seduce Jack. Jack eventually leaves the Pendrake household.
Jack becomes the apprentice of the snake-oil salesman Merriweather (Martin Balsam). The two are tarred and feathered when their customers realize that Merriweather's products are fraudulent. One of the angry customers is Jack's sister, Caroline.
She attempts to mold her brother into a gunslinger named the Soda Pop Kid. Jack meets Wild Bill Hickok at a saloon, and Hickok takes a liking to the young man. When Hickok is forced to kill a man in self-defense, Jack loses his taste for gunslinging and Caroline deserts him.
Director: Arthur Penn
Year of Release: 1970

Character to watch: Dustin Hoffman as Jack Crabb.
Journal your answers to the following questions after you watch the movie.
How does this particular character's journey compare with yours?
Did the character develop certain characteristics during the movie that you have or that you would like to have? If so, what are those characteristics?
What obstacles did this character face? What was his or her biggest challenge?
What would you have done differently if you had been in the same position as the character?
Is this character the type of person you would be friends with? Why or why not?