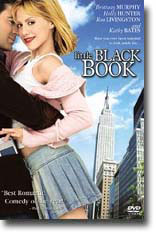 Half screwball romance, half satire, Little Black Book follows insecure Stacy Holt (Brittany Murphy), who has an idyllic relationship with a seemingly great guy named Derek (Ron Livingston) and a job as an associate producer for a daytime talk show that fuses Jerry Springer and Ricki Lake.
Then a cynical co-worker named Barb (Holly Hunter) persuades Stacy to delve into Derek's Palm Pilot to learn more about his ex-girlfriends–which sends Stacy into a spiral of ever-increasing paranoid compulsion.
Little Black Book takes some unexpected plot twists that some viewers will find weirdly fascinating. Hunter steals the show, in more ways than one.  Stacy works as an associate producer on a TV talk show called Kippie Kann played by Kathy Bates. She is staying with her boyfriend Derek and stumbles upon his 'little black book'.
The device shows Stacy that her boyfriend has pictures and phone numbers of several ex-girlfriends. Perhaps the biggest message in this movie has to do with snooping and the problems it can create.
She decides to meet each one of the ex's personally in an attempt to get closer to Dereks past life and ends up becoming friends with one of the ex's. However Stacy is set up by her colleague Barb (Hunter) as she has kept track of everything Stacy has done with the Palm Pilot -the little black book- and stages her on a live performance of the talk show and Stacy ends up losing her boyfriend to the ex she became friends with. The end of the film shows Stacy getting a new, better job and meeting her idol Carly Simon.
Director:  Nick Hurran
Year of Release: 2004

Character to watch: Brittany Murphy as Stacy Holt.
Journal your answers to the following questions after you watch the movie.
How does this particular character's journey compare with yours?
Did the character develop certain characteristics during the movie that you have or that you would like to have? If so, what are those characteristics?
What obstacles did this character face? What was his or her biggest challenge?
What would you have done differently if you had been in the same position as the character?
Is this character the type of person you would be friends with? Why or why not?