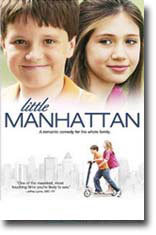 In Manhattan, the 10 year old Gabe (Josh Hutcherson) finds his first love when he meets his former kindergarten mate, the eleven years old Rosemary Telesco (Charlie Ray), in his karate classes. Confused with his new feelings and with the divorce process of his beloved parents, Leslie (Cynthia Nixon) and Adam (Bradley Whitford), he experiences the delightful unknown sensation of being in love for the first time.
Rosemary walked into his life actually into his karate class. But, before Gabe can tell Rosemary how he feels, she tells him she will not being going to public school any more. Gabe has a lot more to learn about life, love and girls.
One of the genuine surprises to be released in 2005 was Little Manhattan, a charming, precious (without overdoing it) Woody Allen-esque ode to New York City for the elementary school set. It asks that age old question do girls mature faster than boys and proceeds to tell the story of a relationship between a boy and girl from the his point-of-view. The film was given very limited release in theatres and is now out on DVD where it will hopefully find a wider audience.
Most of the action takes place on the Upper West Side and for anyone who's lived there they will recognize familiar landmarks like the Beacon Theater, the Planetarium and Riverside Park. A lot of credit goes to filmmakers Mark Levin and Jennifer Flackett for staying true to the geography of the city and shooting entirely on location as they provide a wonderful travelogue of the lesser known side of Broadway.
Little Manhattan doesn't sugarcoat the messiness of relationships and the sometimes bittersweet nature of love no matter what the age. Even when things don't work out, hopefully you learn from the experience and are a better person for having gone through it. Most kid's movies are either too cutesy or try too hard to make them little J.D. Salinger-esque adults. This film gets it just right, treading the line between both, never having too much of one and always maintaining a balance.
There is an audio commentary by director Mark Levin and screenwriter Jennifer Flackett. They consciously wrote their movie in a way that it had to be shot in New York City and could not be doubled in Toronto as is commonly done. Levin and Flackett acknowledge Woody Allen as an obvious influence on their movie, citing Annie Hall specifically, and also When Harry Met Sally. This is a pleasant track as they take us through various aspects of their feature film debut.
Director: Mark Levin
Year of Release: 2005

Character to watch: Richard Gere as John Klein.
Journal your answers to the following questions after you watch the movie.
How does this particular character's journey compare with yours?
Did the character develop certain characteristics during the movie that you have or that you would like to have? If so, what are those characteristics?
What obstacles did this character face? What was his or her biggest challenge?
What would you have done differently if you had been in the same position as the character?
Is this character the type of person you would be friends with? Why or why not?