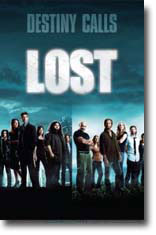 Mixing suspense and action with a sci-fi twist, Lost began with a thrilling pilot episode in which a jetliner traveling from Australia to Los Angeles crashes, leaving 48 survivors on an unidentified island with no sign of civilization or hope of imminent rescue. Lost kept viewers tuning in every week and spending the rest of the week speculating on Web sites with some irresistible hooks.First, there's a huge ensemble cast of no fewer than 14 regular characters, and each episode fills in some of the back story on one of them. There's a doctor; an Iraqi soldier; a has-been rock star; a fugitive from justice; a self-absorbed young woman and her brother; a lottery winner; a father and son; a Korean couple; a pregnant woman; and others.
Second, there's a host of unanswered questions: What is the mysterious beast that lurks in the jungle? Why do polar bears and wild boars live there? Why has a woman been transmitting an SOS message in French from somewhere on the island for the last 16 years? Why do impossible wishes seem to come true? Are they really on a physical island, or somewhere else? What is the significance of the recurring set of numbers? And will Kate ever give up her bad-boy fixation and hook up with Jack? Lost did have some hiccups during the first season.
Some plot threads were left dangling for weeks, and the "oh, it didn't really happen" card was played too often. But the strong writing and topnotch cast kept the show a cut above most network TV. The best-known actor at the time of the show's debut was Dominic Monaghan. The rest of the cast is either unknowns or "where I have I seen that face before" supporting players, including Matthew Fox and Evangeline Lilly, who are the closest thing to leads.
Other standouts include Naveen Andrews, Terry O'Quinn (who's made a nice career out of conspiracy-themed TV shows), Josh Holloway, Jorge Garcia, Yunjin Kim, Maggie Grace, and Emilie de Ravin, but there's really not a weak link in the cast. Co-created by J.J. Abrams, Lost left enough unanswered questions after its first season to keep viewers riveted for a second season.
The series won an Emmy Award for "Outstanding Drama Series" and series creator J.J. Abrams was award an Emmy in September 2005. The series also won the Writers Guild of America Awards for "Outstanding Achievement in Writing for a Dramatic Television Series", 2005 Producer Guild Awards for "Best Production" and the 2005 Director's Guild Award for "Best Direction of a Dramatic Television Program" and the "Screen Actors Guild Awards 2005′ for Best Ensemble Cast.

Character to watch: Matthew Fox as Jack Shephard.
Journal your answers to the following questions after you watch the series.
How does this particular character's journey compare with yours?
Did the character develop certain characteristics during the movie that you have or that you would like to have? If so, what are those characteristics?
What obstacles did this character face? What was his or her biggest challenge?
What would you have done differently if you had been in the same position as the character?
Is this character the type of person you would be friends with? Why or why not?