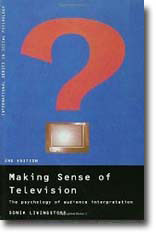 Taking the soap opera as a case study, this book explores the parasocial interaction people engage in with television programs. It looks at the nature of the active viewer and the role of the text in social psychology. It also investigates the existing theoretical models offered by social psychology and other discourses.
This book takes into account recent research work and theoretical developments in fields such as narrative psychology, social representation theory and ethnographic work on audiences, and look forward to the developing role of audience research. It will be an essential study for students and lecturers in social psychology and media studies. The author provides extremely useful thoughts and approaches for media scholars an impressive book.
New technological developments and increasing leisure time ensure that television will continue to structure and influence people's experiences and understanding of their social world far into the future. Making Sense of Television addresses an issue central to the social psychological perspective on the mass media – how viewers interpret the programs that they see.
A critical review of relevant literature in psychology, communications and literary criticism is followed by an analysis which seeks to integrate these research literature examples s to provide a new perspective on the audience's everyday interpretations of television.
Author: Sonya Livingston
Year of Release: 1998