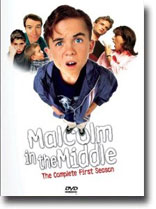 In the words of They Might Be Giants' rollicking Grammy-winning theme song, "life is unfair." The inventive and wholly original sitcom Malcolm in the Middle has been honored with a Peabody Award and Emmys for directing and writing, but if life was fair, it would have earned an Emmy for Best Comedy Series, not to mention statuettes for its pitch-perfect cast.
With his perpetual "yes, me worry" expression, Frankie Muniz instantly earns audience empathy as Malcolm, whose chances for a normal life are thwarted not only by his genius IQ (as discovered in the pilot episode), but also by his outrageously dysfunctional family: Lois (Jane Kaczmarek), his obsessive, control-freak mother; Hal (Bryan Cranston), his loving but ineffectual father; Francis (Christopher Masterson), his eldest brother waging his own private war at military school; middle brother Reese (Justin Berfield), a delinquent savant; and Dewey (Erik Per Sullivan), the put-upon youngest. As Malcolm observes at one point, "This family may be rude, loud and gross, and have no shame whatsoever, but with them you know where you stand."This three-disc set contains all 16 episodes from the irreverently funny first season. The series instantly toned things down a tad from the pilot episode that saw Lois body-shaving a naked hirsute Hal in the kitchen. But it brilliantly sustains its subversive tone, from episode two, in which the brothers stand united against Lois's increasingly desperate methods to uncover who burned her red dress, to the season finale, in which Malcolm dares to push her down a water slide.
Not that there aren't sublimely sweet moments, as in that season finale when Dewey bonds with his elderly babysitter (Bea Arthur!) over Abba's "Fernando." Before you get out your handkerchiefs, said sitter collapses and is carted away in an ambulance.

Character to watch: Jane Kaczmarek as Lois.
Journal your answers to the following questions after you watch the series.
How does this particular character's journey compare with yours?
Did the character develop certain characteristics during the movie that you have or that you would like to have? If so, what are those characteristics?
What obstacles did this character face? What was his or her biggest challenge?
What would you have done differently if you had been in the same position as the character?
Is this character the type of person you would be friends with? Why or why not?