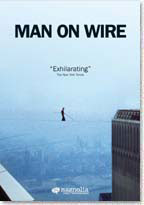 A look at tightrope walker Philippe Petit's daring, but illegal, high-wire routine performed between New York City's World Trade Center's twin towers in 1974, what some consider, "the artistic crime of the century."
The title of the movie is taken from the police report that led to the arrest (and later release) of Petit, whose performance had lasted for almost one hour. The film is crafted like a heist film, presenting rare footage of the preparations for the event and still photographs of the walk, alongside reenactments.
On August 7, 1974, a 24-year-old French high-wire Philippe committed one of the most astonishing performance stunts of the late 20th century: he strung a thin cable in between the two towers of the World Trade Center and not only walked across, from one building to another, but did a nerve-wracking series of knee-bends and acrobatic movements on the cable, some 1,350 feet above the ground, before turning himself in.
This occurred to the consternation and chagrin of Port Authority policemen, who immediately arrested Petit for the act — prompting many to dub Petit's stunt "the artistic crime of the century." James Marsh's documentary Man on Wire revisits and recounts this chain of events some 34 years after they occurred.
On the surface, Man on Wire may appear to be a straightforward documentary about an eccentric high wire artist who is either incredibly brave, or incredibly stupid. But if you look closer, you might discover one of the best suspense thrillers/heist movies of 2008, although no guns are drawn and nothing gets stolen. It is also one of the most romantic films I've seen this year, although it is not a traditional love story. Existential and even a tad surreal at times, it is ultimately a deeply profound treatise on following your bliss.
Late in the summer of 1974, a diminutive Frenchman named Philippe Petit made a splash (of the figurative kind, luckily) by treating unsuspecting NYC morning commuters to the sight of a lifetime: a man taking a casual morning stroll across a ¾" steel cable, stretched from rooftop to rooftop between the two towers of the then-unfinished World Trade Center, 1350 feet skyward. After traversing the 200 foot wide chasm with supernatural ease, he decided to turn around and have another go. And another. And another. All told, Petit made 8 round trips, with only one brief but memorable rest stop. He took a breather to lie on his back (mid-wire) and enjoy what had to have been the ultimate Moment of Zen ever experienced in the history of humankind, contemplating the sky and enjoying a little chit-chat with a seagull.
Director: James Marsh
Year of Release: 2008

Character to watch: Philippe Petit as Himself.
Journal your answers to the following questions after you watch the movie.
How does this particular character's journey compare with yours?
Did the character develop certain characteristics during the movie that you have or that you would like to have? If so, what are those characteristics?
What obstacles did this character face? What was his or her biggest challenge?
What would you have done differently if you had been in the same position as the character?
Is this character the type of person you would be friends with? Why or why not?